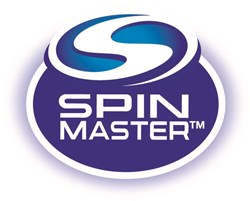 Spin Master has always prided itself on introducing new children's toy and entertainment products that have the 'wow' factor that people love. - Ben Gadbois, Spin Master's Global President and Chief Operating Officer
Toronto, ON (PRWEB) February 13, 2014
Spin Master Ltd., Canada's largest children's toy and entertainment company, showcases its highly anticipated 2014 toy portfolio at The 111th American International Toy Fair in New York City.
Spin Master's 2014 line-up builds on the company's reputation as the leading trendsetter and category buster with a host of exciting new innovations that will strengthen their position among the most popular children's properties in the world, and introduced a number of exciting new brands that will launch throughout the year.
"Spin Master has always prided itself on introducing new children's toy and entertainment products that push the boundaries of design, technology and play and that have the 'wow' factor that people love," said Ben Gadbois, Spin Master's Global President and Chief Operating Officer. "Our 2014 range is extremely innovative and a lot of fun for kids of all ages."
Some of our key highlights are as follows:
Flutterbye: Flutterbye brings the world of fantasy to life by placing the magic in little girls' hands. All of their favorite fairytale creatures come twirling, dancing, spinning, and of course flying into their rooms. Driven by innovation with a dash of magic Flutterbye puts the control into girl's hands, inviting them to unlock their fairies hidden potential and joy.
Ionix: Ionix the revolutionary line of never before seen construction bricks that change their shape before your eyes! These construction bricks shapeshift and change to become mini figures, action figures, weapons, gear, gadgets and more. What's more, these bricks snap together with other leading construction systems. Ionix: Shapeshift, build, unleash!
How to Train Your Dragon 2 by Ionix: New from the magical, shapehshifting world of Ionix, comes How to Train Your Dragon 2 construction sets. This line of building sets is based on the much anticipated sequel to the 2010 blockbuster movie from DreamWorks, where Toothless and Hiccup return to find themselves at the center of a battle to protect the peace. Shapehshift and build your favorite dragons with new shapeshifting Ionix bricks. Recreate the incredible adventures of Toothless, Hiccup, and all of their friends as they battle against new foes and other threats to their homes on Berk.
Pokémon by Ionix: Enter the incredible world of Pokémon built on the innovative new shapeshifting bricks from Ionix! Utilize the amazing Ionix bricks to bring your favorite Pokémon characters like Pikachu, Chespin, Fennekin, Froakie and others to life. Play out exciting adventures with favorite characters from this beloved franchise in a whole new way thanks to Ionix.
Maddy: Spin Master's newest interactive doll, Maddy, is a talking, moving, "thinking," animated toy that will wow even the most tech savvy little girls. The sweet and silly personality of Maddy will make you laugh out loud as you interact with her using her included accessories and touch sensor glasses. Maddy's glasses are a pair of high-resolution LED screens that function as her eyes but will also play short animations, and can even be used to play mini games. Download the free companion app to call and text your Maddy, play games with her, and discover some of her hidden features.
Paw Patrol: Paw Patrol is on a roll and headed to toy aisles this summer. Developed by Spin Master Entertainment, Paw Patrol is a top-rated preschool series airing every weekday on Nickelodeon. When trouble strikes Adventure Bay, these heroic pups are there to save the day …while learning lessons about friendship, safety, and teamwork. This long-awaited toy line features the lovable pups, cool vehicles and magical transformation that have made Paw Patrol a ratings hit.
Zoomer Dino Boomer: What's better than a guard dog? A guard Dino! Boomer runs around balancing on two feet, chomping and whipping his tail. Play with him in autonomous mode via the sensors in his nose, or pick up the control pod to send him on attack and put him in guard mode. Although Dino appears aggressive at first, he also has a softer side, protecting his friends and sometimes even busting a dance move. He has all different moods and will show them to you with his color changing eyes.
For information on Spin Master's complete 2014 portfolio, please visit Spin Master's NY Toy Fair Booth #767 at the Jacob K. Javits Convention Center, 11th Avenue between W. 34th & W. 39th Streets between Sunday, February 16th and Wednesday, February 19th.