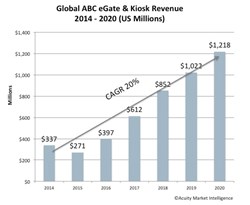 Europe will be the largest market for ABC eGates and Kiosks generating more than $2 billion in revenues over the forecast period representing a 47% revenue market share.
Louisville, CO (PRWEB) February 12, 2014
Acuity Market Intelligence reports that the rapidly evolving Automated Border Control (ABC) eGate and kiosk market will generate more than $1.2 billion dollars in annual revenue by 2020. The total number of ABC eGates deployed as fully automated replacements for border control stations is projected to exceed 6,000 by 2020. An additional 33,000 specailized immigration self-service kiosks and eGates will be deployed at check-in, baggage drop, arrival halls, and boarding gates at airports, land borders, and seaports worldwide.
Europe will be the largest market for ABC eGates and kiosks generating more than $2 billion in revenues and representing a 47% total revenue market share from 2014 to 2020. Asia will follow with nearly $1 billion in revenues and a 22.5% revenue market share over the forecast period.
Airports will be the dominant sector in the ABC eGate and kiosk marketplace representing 95% of installed units and 93% of revenues in 2014. By 2020, airports cede ground to land borders and seaports but remain the clear market sector leader with more than 80% annual revenue and unit market share.
"Increasing international travel volumes and congested borders are driving adoption of automated border control processes," said Acuity Principal, Maxine Most. "Across the globe, port management and border authorities are embracing ABC eGates and kiosks as a means to provide modern, safe, and user-friendly border crossing experiences that facilitate global travel and enhance sovereign security."
Most continued, "ABC eGates and kiosks represent the customer facing touch points to what promises to be a far more complex and highly interoperable 21st century border management IT infrastructure. Over time, this IT infrastructure will evolve into an even more comprehensive network that integrates both passenger and immigration processing in a way that will fundamentally reshape the global travel experience."
Most will be presenting findings from Acuity's ABC research for the first time publicly during an exclusive findBIOMETRICS webinar on Wednesday, February 19, 2014 at 11:00 am EST. More information and registration details are available at http://findbiometrics.com.
In addition, detailed forecasts and analysis for the airport sector of the market are available in Acuity's first ABC report entitled "The Global Automated Border Control Industry Report: Airport eGates and Kiosks."
This comprehensive, data rich report includes 200 tables and charts representing a wealth of previously unpublished critical data and statistics on the global Airport ABC eGate and Kiosk marketplace including unit and revenue forecasts globally, by region, and by ABC solution type from 2014 to 2018. With the publication of this must read report, Acuity Market Intelligence solidifies its reputation as the leading provider of candid, hype-free, and data-driven insight into the identity marketplace.
To order, preview, or get more information on "The Global Automated Border Control Industry Report: Airport eGates and Kiosks," contact Acuity at +1 303 449 1897 or info(at)acuity-mi(dot)com, or visit http://www.acuity-mi.com/ABCair_Report.php.
About Acuity Market Intelligence: Acuity Market Intelligence (http://www.acuity-mi.com) is an emerging technology strategy and research consultancy with a proven record of accurately anticipating biometric and electronic identity (eID) market trends. Founded in 2001 to bring strategic market development expertise to the nascent biometrics market, Acuity consistently provides original, thought-provoking, accurate, and reliable biometric and eID industry insight and analysis. Acuity's data-driven approach means Clients have the critical market intelligence they need to create and implement successful market development strategies that produce quantifiable results. The company provides strategic planning, market research and analysis, sector tracking, opportunity sizing, solution, and deployment analysis, due diligence, executive briefings, and customized consulting. Founded in October 2001, Acuity is headquartered in Louisville, Colorado, USA with clients in the United States, Asia, and Europe.
For further information, please contact:
Acuity Market Intelligence
+1 303 449 1897
info(at)acuity-mi(dot)com
http://www.acuity-mi.com
###