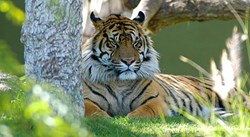 The goal of the Bagheera website is to educate people about the plight of endangered species, and the efforts to save them. - Endangered Species Journalist Craig Kasnoff.
Phoenix, AZ (PRWEB) February 12, 2014
Bagheera.com, an endangered species educational website, has launched its new website design according to website producer and endangered species journalist Craig Kasnoff.
According to Kasnoff, Bagheera.com has been educating people on the issue of endangered species for over 18 years.
"The goal of the Bagheera website is to educate individuals about the plight of endangered species and the efforts to save them," says Kasnoff. "And over the last 18 years, Bagheera has been visited by millions of people, who have requested tens of millions of pages of information on endangered species."
Kasnoff says even though there have been a number of changes to Bagheera over the years, 2014 is the time for a "total" upgrade to the website to make sure the content is up to date, and to accommodate the many new web technologies and web devices now available.
Kasnoff, who has also been a media consultant—as well as an endangered species journalist—for the last 20 years, says even though the advances in technology often time seem overwhelming to keep up with, the new communication channels such at YouTube, Facebook, Twitter and Google+ create amazing opportunities for journalists to communicate important information to the public.
Especially information about the plight species in danger of extinction are facing.
"When I first started as a freelance journalist, the only way I was able to get a story published on a conservation or endangered species issue was to be published in a 'traditional' media publication," says Kasnoff. "However now, if I want to write about a tiger, or an orangutan, or the Endangered Species Act, I just write about it, publish it on one of the many communication platforms available, and hope people read it."
Over the years, Kasnoff's conservation writing has appeared in publications such as the Christian Science Monitor, The Seattle Times, the San Francisco Examiner and many other high profile publications. He also had a nationally syndicated radio show call "Rock and the Environment" which featured musical artists such as Paul McCartney, Chris Cornell of Soundgarden, Melissa Etheridge and others, talking about their environmental concerns.
Kasnoff says even though he doesn't have the audience of a large publication (yearly visitors to Bagheera are in the hundreds of thousands and not the millions), he has more freedom to write about the issues he believes are important. And, he adds, by using the new media communication channels, there is "no limit" to how large an audience he can build.
Kasnoff says the new design for the Bagheera website makes it "mobile friendly." He says it also contains new sections not available on previous version of Bagheera. He says one section, called Bagheera TV, features a number of YouTube videos that focus on the plight of endangered species.
He says there are a number of new features and sections in the works that will be implemented in 2014.
"Saving endangered species is not just about science or conservation, it's also about politics, finances, religion, culture and many other 'human' activities," says Kasnoff. "The challenge is trying to get a handle on the 'big picture' because there are so many facets to that picture, and that picture is changing every day."
Kasnoff says his goal is to make sure that all the issues that impact endangered species, are represented in the Bagheera website.
Bagheera.com was created by Endangered Species Journalist Craig Kasnoff to educated people about the plight of endangered species and the efforts to save them.