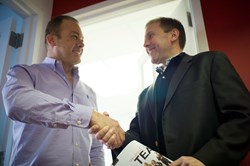 Robert and his team represent the very best in the real estate industry, his results speak for themselves. I am very pleased that he has joined us in our Maplewood, NJ office. - Reed Kean, managing director of Keller Williams Mid-Town Direct Realty
Maplewood, NJ (PRWEB) February 11, 2014
"The world is changing, people want more from their real estate agents. The Keller Williams Mid-Town Direct Management team gets it," said Robert Northfield. "From the positive attitude and entrepreneurial spirit to the investment in technology, Keller Williams Mid-Town Direct Realty provides the environment and support which allows for a superior home buying & selling experience."
"Robert and his team represent the very best in the real estate industry, his results speak for themselves. I am very pleased that he has joined us in our Maplewood, NJ office," said Reed Kean, managing director of Keller Williams Mid-Town Direct Realty. "This is a wonderful expansion for our office and just another way we are insuring that Keller Williams Mid-Town Direct Realty will continue to be the market leader in the Essex and Union Counties."
The Keller Williams Mid-Town Direct Realty office and Robert Northfield's team work tirelessly to achieve a standard that we live up to each and every day, this move is another example of their constant pursuit to do more and better work for their clients.
About Keller Williams Mid-Town Direct Realty
Located just a few steps from Maplewood's NJ Mid-Town Direct Train Station, the beautiful office of Keller Williams Mid-Town Direct Realty, LLC. is ideally located in the Township of Maplewood, just 30 minutes from Manhattan via the Midtown Direct train line, 12 minutes from Newark Airport, in the heart of a top selected bedroom community by the NY Times, offering an exceptional variety of homes in all styles with an incredibly diverse community that embraces the Arts and More. Come out and see our beloved town, have a bite and hop back on the train to NY Penn Station.
# # #