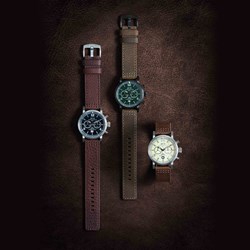 The Hawker Hurricane collection is characterised by a simplicity that echoes the design of its namesake.
(PRWEB) February 12, 2014
Avi-8 have launched the Hawker Hurricane Collection, an elegant collection of timepieces to honour the iconic Hawker Hurricane fighter plane that is remembered with affection by the British as it boldly brought home victory in the Battle of Britain in 1940.
A small, robust single-seater fighter plane first built in 1935, the Hawker Hurricane valiantly swooped through the night skies firing at the enemy alongside the Supermarine Spitfire, and eventually won the Battle earning the gratitude of a nation and becoming an icon in its own right.
Inspired by this era where courage, dependability and style were top order of the day, Avi-8 have crafted a collection of watches to pay homage to the Hawker Hurricane and the untold story of the many airmen who fought bravely for the country in the skies.
The Hawker Hurricane collection is characterised by a simplicity that echoes the design of its namesake. Clean, bold lines surround the dial on which the colours and graphics celebrate the fighter plane's simple but striking motif that identified the Hawker Hurricane. While some of the pieces are essentially classical in appearance, others are more sporty and playful in appearance – drawing on the iconic bull's-eye design from the Hawker Hurricane for colour and adornment.
Straightforward hour indexing, bold hands, and the detailed vintage-inspired sub dials, reminiscent of a fighter plane's cockpit, are all combined to create a timepiece that is elegant in design, precise in performance and stylish in presentation.
The Hawker Hurricane Collection has a timepiece to suit every taste in colour and finish that captures the spirit of the iconic fighter plane through careful representation of the classic detailing.
Watch enthusiasts and collectors will be hard pressed to select from the choices on offer whether it be classic pieces bound with dressy leather straps; watches bearing hard-wearing stainless steel bracelet clasps evocative of the simple yet robust Hawker Hurricane design; or sportier aviator-style that combine timelessness with a modern twist.
All pieces are crafted by the finest engineers and are encased in stainless steel while offering water resistance to 5ATM. Some of the collection is available as a Japanese Chronograph, while other pieces are designed with automatic movement with sub-dial second hand and date functionalities.
The Hawker Hurricane Collection is available now with prices starting at £180 at selected online boutiques.
For further information, email info(at)avi-8(dot)co(dot)uk.