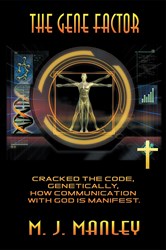 Revolutionary book explores how God communicates and how we listen. Scientific exploration is written so layman can understand as well.
(PRWEB) February 11, 2014
Author M. J. Manley says, "I have written, I have researched, and I have documented all the information that is 'within, not without' that our heavenly father fulfills all the blessings, the prayers, and the hopes of all mankind and all religions from DNA."
The author believes that deeply embedded in our DNA is where communications with God are sent, and where God communicates back to each person, through their living cells and to answer their prayers. The Gene Factor is written so the layman can understand, but this concept is deeper than simply the story of genetic DNA.
The novel is a breakthrough scientifically, on how communications with a highly spiritual being like God is manifested deep down into the very soul of transmission genetic factors, namely the DNA cell. Science shows how communications through gene factors are transmitted. The scripted discoveries in the book explain how blessings, prayers, and having faith are communicated.
THE GENE FACTOR: CRACKED THE CODE, GENETICALLY, HOW COMMUNICATION WITH GOD IS MANIFEST (ISBN: 978-1-62212-077-2) is now available for $19.95 and can be ordered through the publisher's website: http://sbprabooks.com/MJManley or at Amazon and Barnes & Noble.
WHOLESALERS: This book is distributed by Ingram Books and other wholesale distributors. Contact your representative with the ISBN for purchase. Wholesale purchase for retailers, universities, libraries, and other organizations is also available through the publisher; please email bookorder(at)aeg-online-store(dot)com.
About the Author: M. J. Manley was born in Los Angeles and educated in the University of California system, where he obtained a master's of public health administration and a doctorate in psychology. Now retired from the Department of Veterans Affairs Medical Center, this is his fourth novel. Parlay, The Emeritus: Who Will Rule? and The Tides of Time are his previous works.
Strategic Book Publishing and Rights Co, LLC