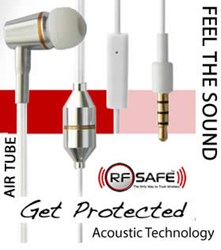 RF Safe Flip Case Radiation Shields address the issue of safety with style when a cell phone is held close to the body or head
San Francisco, CA (PRWEB) February 11, 2014
Common exterior design shared among Smart phones allows phone users, no-matter how busy their daily lives - to easily implement safer controls over cell phone radiation simply by using an RF Safe flip case radiation shield and air tube headset.
Air-Tube Headsets have long been hailed as the best solution to cell phone radiation exposure to the head when speaker phone isn't an option.
While RF Safe headsets do a fantastic job of protecting the brain from cell phone radiation - just where the phone is located on the body when using the headset is of great concern. For the longest time many consumers concerned about cell phone radiation have depended on bulky pocket shields and shielded pouches to provide protection when carrying a cell phone in a shit or pants pocket. Not very stylish and nearly impossible to get kids to accept.
RF Safe Flip case radiation shields address the issue of safety with style when a cell phone is held closer to the body than safely recommended in its owners operating manual. Many cell phone manufacturers warn not to hold the phone closer than 5/8 of an inch from the body.
The reason for this warning is that holding the phone closer than that can expose the user to unsafe levels of microwave's from radio frequency radiation. Without this distance between the phone and user, RF exposure can be higher than the FCC allows under its current SAR guidelines for safe levels of human radiation absorption.
But wait a minute, says John Coates - Founder of RF Safe. "How many people really hold their cell phones an inch away from their bodies?" Almost no one was his answer, "if carried in a pocket, the material your clothes are made of is completely transparent to microwave radiation" said Coates.
This is where RF Safe's new cell phone flip case is really making waves - or in this case deflecting radio waves away. The Flip case offered by RF Safe comes in very handy indeed. On the flip cover it has shielded cut outs for the earpiece, so you can talk and hear clearly on the phone with the flip cover closed so there is a shield between the user and cell phone. The entire flip cover is shielded with special fabric that deflects cell phone radiation.
RF Safe claims there are several good reasons for only shielding the front of the cell phone. It's common in smart phone design that the antenna is located on the back of the phone behind the touch screen. RF Safe flip case covers shield the entire front of the phone creating a barrier that radiation cannot penetrate between the front of the cell phone and user.
According to RF Safe, cell phone users for the first time can rely on RF Safe flip cases to protect the phone from damage and their health from excessive phone radiation exposure.
Finally, there is a flip case that can help cell phone users that often carry a smart phone in their pocket and even use the phone closer than 5/8 of an inch from their ear and head, In no way does RF Safe condone the usage of the phone being closer to the body than recommended in the phones user manual.
"RF Safe's shielded flip case accessory addresses the concerns that in practical everyday life, consumers do not follow these guidelines for safe radio frequency exposure -- it's possibly overlooked because the radiation warnings are located in fine print in the owner's phone manual." John explains.
Because RF Safe's flip case only shields radiation that is directed towards a cell phone user, the phone still operates at its lowest output levels for maintaining connection to a cell phone tower.
Coates said, "The perfect combination for cell phone radiation safety is using an RF Safe air-tube headset and flip case radiation shield together. The air tube headset lets users talk privately or enjoy listening to music without exposing their brain to microwave radiation. Equally important, the flip case that provides a shield between the user and cell phone whenever the front of the phone is facing them - even when talking normally with the phone to their ear".
RF Safe claims that talking the precautions of avoiding excessive cell phone radiation exposure has never been easier to do with these very easy to use and important cell phone safety accessories. John Coates wraps up by saying, "These are phone RF safety accessories that absolutely no cell phone user should be without".
Learn more about the best cell phone radiation protection and the hazards of phone radiation at http://www.rfsafe.com