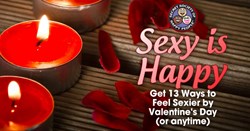 When you feel sexy it's natural to feel happy too.
Dallas, TX (PRWEB) February 11, 2014
The Secret Society of Happy People (http://sohp.com) has identified feeling sexy as one of the many feelings that contribute to one's overall happiness. In efforts to spread the happy around the globe during this week prior to Valentine's Day, The Secret Society of Happy People is giving away a downloadable poster with 13 Ways to Feel Sexier by Valentine's Day (or anytime).
The Secret Society of Happy People's Founder, Pamela Gail Johnson, recently blogged about her own experience "I don't know when I went from sexy to frumpy, but it happened", Pamela described the complacency that all women feel at some point in what she called "appearance lazy."
"When I thought back to my younger adulthood, I wanted to look my best when I went out in public because I wanted to make a great impression. In my 40s I guess I just quit caring what other people thought about my appearance. It just didn't seem important anymore," says Pamela.
But Pamela had an epiphany last year when she was preparing to shoot a motivational video for The Secret Society of Happy People and realized that her wardrobe consisted of baggy clothes that were dark or neutral colors. "That's when I made the sexy is happy connection. I regularly promote the idea that small actions contribute to our overall happiness, but I wasn't taking action in this aspect of my appearance," she says.
Once she made that realization, Pamela found that she had changed in her 40s. Looking good was no longer motivated by what other people thought, but was dependent on what she herself felt. "That's one of the main keys to real happiness: Each individual has the power to find their own happiness and it's not dependent on other people," she adds.
Anyone who is interested in how to feel sexy this Valentine's Day is welcome to download the 13 Ways to Feel Sexier poster. Each activity is simple and doesn't require shopping or spending money on elaborate Valentine's Day accoutrements and there are a variety of ideas for Valentine's Day because everyone has different views on what is sexy to them. For some it might be writing romantic love letters while others may find what they wear makes them feel sexy.
The activities are simple such as number 10: "Create a Valentine's Day playlist with at least 12 songs that put you in a sexy sassy mood and listen to at least one song a day, and number 12: "Watch a movie with your favorite happy ending love story." The poster is available at: http://sohp.com/happy-is-sexy/.
About The Secret Society of Happy People:
Pamela Gail Johnson founded the Secret Society of Happy People in 1998 to encourage the expression of happiness and discourage parade-raining. The Society has thousands of members from more than 34 countries. Ms. Johnson is a public speaker for organizations and companies around the country who want to promote happiness among their members or employees. The Secret Society of Happy People offers free membership to anyone interested in learning how to improve their happiness quotient. The free membership includes a downloadable Happiness Word Poster, a monthly Happiness Happens newsletter and an optional Daily Happiness Inspiration email. The society also offers videos, books and daily inspirations to promote happiness.
Media Contact:
Pamela Gail Johnson
(972) 459-7031
(469) 358-3914
Email Above
keywords: Valentines Day Ideas, romantic love letters, ideas for Valentine's Day, Valentine's Day playlist, how to feel sexy, what is sexy, sexy is