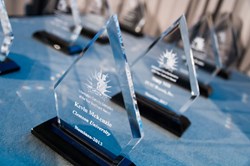 Nominees represent a wide range of industries and the breath and scope of what they have accomplished is quite impressive.
Atlanta, GA (PRWEB) February 11, 2014
T.E.N., a technology and information security executive networking and relationship-marketing firm, announced today the nominees vying for the 2014 Information Security Executive® and Project of the Year Awards in the Southeast U.S. Region. Executives include top-ranking decision makers representing national to global organizations in financial services, health care, retail, travel/entertainment, government and education. Projects include large-scale technology endeavors that address issues of identity and access management, vulnerability management, application and network security, PCI compliance and large-scale awareness programs.
Executives Nominees:
Herbert Baines, Chief Information Security Officer, Georgia Institute of Technology
Chris Bullock, Director of Information Assurance, Aaron's Inc.
Martin Fisher, Director of Information Security, WellStar
Brandon Lowther, Director, Hilton Worldwide
Dave McDermitt, Assistant Vice President, Information Security Officer, Federal Reserve Bank of Atlanta
Robert Mims, Chief Information Security Officer, AGL Resources
ViJay Viswanathan, Chief Information Security Officer, HD Supply
Executive nominees are also eligible for the ISE® Southeast People's Choice Award, which given to the top candidate selected by peers in the security industry. Cast your vote by Feb. 21 for this year's winner; visit: https://www.surveymonkey.com/s/PCvoting_SE14.
Project Nominees:
ADP, Global Security Awareness Campaign 2013
American Cancer Society, PCI Compliance Remediation
AutoTrader Group, Scraping Defense
Cigna-HealthSpring, Enterprise HR System Consolidation and Controls Integration Project
Federal Reserve Bank of Atlanta, Enterprise Board Portal
Hilton Worldwide, 2013 PCI DSS Merchant Compliance Program
HireRight, Enabling HireRight Security Teams with Advanced Risk Analysis and Vulnerability Management Solutions
Travelport, Web Application Access Management for Corporate Users
"We have an exciting group of nominees for the 2014 ISE® Southeast Awards," said T.E.N. CEO & President Marci McCarthy. "Nominees represent a wide range of industries and the breath and scope of what they have accomplished is quite impressive. We are excited to celebrate their success this March."
The ISE® Southeast Awards recognize executives and projects, which have made a positive impact on their organizations through risk management, data-asset protection, regulatory compliance, privacy and information security. Nominations are sent to T.E.N.'s distinguished panel of ISE® judges for review and scoring.
Tim Callahan, Sr. Vice President, Enterprise Business Continuity & Info Assurance, SunTrust
Lynda Fleury, Vice President and Chief Information Security Officer, Unum
John Graham, Chief Information Security Officer, Jabil
Paul Huesken, Chief Information Assurance Officer, The Coca-Cola Company
Jody Lee, Group Executive for Operations, TSYS
Kevin McKenzie, Chief Information Security Officer, Clemson University
Tim Searcy, Chief Information Security Officer, Protective Life
All nominees will be recognized at the ISE® Southeast Executive Forum and Awards on March 11, 2014 at the Westin Buckhead in Atlanta, GA. Finalists and winners are announced at the awards gala that evening and recognized through press coverage and inclusion on the T.E.N. and ISE® websites. The event is made possible by gigabyte sponsor Adobe; kilobyte sponsors, Agari, BeyondTrust, Fidelis Cybersecurity Solutions, FireEye, HyTrust, Imperva, Intel Security, NetIQ, Qualys and Websense; and display sponsors Accuvant, Axway, Bromium, Checkmarx, Click Security, Fishnet Security, Intralinks, Invincea, Layer 7 Technologies, SafeNet, Solutionary, and WhiteHat. Read more online: http://ten-inc.com/ise/southeast/default.asp.
About T.E.N.
T.E.N., a national technology and security executive networking organization, facilitates peer-to-peer relationships between top executives, industry visionaries and solutions providers. Nominated for numerous industry awards, T.E.N.'s executive leadership programs enable information exchange, collaboration and decision-making. Its flagship program, the nationally-acclaimed Information Security Executive® (ISE®) of the Year Program Series and Awards, is North America's largest leadership recognition and networking program for security professionals. Other offerings include the T.E.N. Custom Programs and the ISE® Industry Expert Advisory Services, empowering IT solutions providers to gain access to highly credentialed IT business veterans' expertise. For information, visit http://www.ten-inc.com.
About ISE® Award Program Series
For more than a decade, the Information Security Executive® (ISE®) of the Year Award Program Series has empowered security executives and their project teams to Connect, Collaborate and Celebrate. Recognized as the industry's most prestigious IT Security award program, it has become the most anticipated award program for security executives and their project teams. Winners have included executives and project teams from leading organizations such as Nike, The Walt Disney Company, the United States Postal Service, Schlumberger, Texas Instruments, JPMorgan Chase & Co., Equifax, Comcast, PayPal, Northrop Grumman Corporation, and Nationwide.
Our distinguished ISE® Judges are past nominees representing a cross section of industries, including commercial, government, health care and academic sectors. For this reason, the ISE® Awards represent the best achievements of the year as evaluated by those regarded as the industry's most influential and successful thought leaders. Coupled with a one or two-day executive summit, the ISE® Awards are held across the country and Canada in major cities including Atlanta, Dallas, New York, Toronto, San Francisco and Washington, D.C. The ISE® Awards Program Series has reached more than 10,000 executives across a broad range of industries and has been a major influence in executives' careers, knowledge sharing, and the development of peer-to-peer relationships.