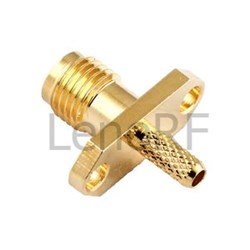 (PRWEB) February 13, 2014
Recently, LenoRF, a renowned SMA product manufacturer and retailer, has released its selection of quality SMA female connectors for February. What's more, the company has launched a promotion of all these items. They are now available at discounted rates, up to 31% off.
About The Company's Statement
According to the CEO of the company, all its brand new SMA female connectors are very practical. In fact, SMA stands for "SubMiniature version A". An SMA connector can be widely used in Vehicle WiMax, Wireless LAN, Telecommunication, Tracking System, Aero and precise testing instrumentation. Every item has a 50ohm impedance, 1/4-36 thread type coupling mechanism; it can offer a great electrical performance from 0 to 18GHz.
"We are proud to announce our new products. All these cheap connectors are of top quality. They are useful in many industries. We promise that all of them are excellent. At our website, we provide quality products only," he says.
About The Hottest Designs
Among all the SMA female connectors from LenoRF, the most popular item is SMA Connector female 2 hole flange panel mount for RG-178. The product description of the product is as follows:
Impedance:50 ohms
Frequency Range: DC-18GHz (semi-rigid cable)
DC-12.4GHz (flexible cable)
Mating: .250-36 threaded coupling
Durability: 100 cycles minimum
Body and outer contacts: Brass, nickel or gold plated
Male Contact: Brass, Gold plated
Female Contact: Beryllium copper or phosphor bronze, gold plated
Crimp ferrule: Copper or brass, nickel plated
Insulator: LCP, PTFE or PFA
About LenoRF
LenoRF is a famous global manufacturer of coaxial connectors and cable assemblies. The company has been specializing in the industry for several years and it insists on providing effective turnkey solutions for radio frequency system. Its customers include worldwide OEMs, distributors and system integrators from various fields like broadcast, land-mobile, wireless communications, microwave market sectors and so on.
For more information, readers can visit http://www.coaxial-connector.com/product/sma-connectors-female-2-hole-flange-panel-mount-for-rg-178/.