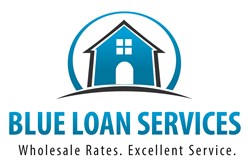 San Diego, CA (PRWEB) February 11, 2014
Blue Loan Services is a full service mortgage company headed by Robert and Brandon Blue. The Blue Loan Services team of mortgage professionals, led by the father/son duo, is dedicated to providing its clients with the lowest rates and fees, the best loan products, and connections to the top lenders and real estate agents in California. The company also does its best to keep borrowers informed of any developments that could affect their mortgage options. Now, with California mortgage rates moving modestly lower, the company takes stock of the situation and gives some advice for those looking for the best mortgage rates.
As a February 10th report from Mortgage News Daily explains, "Mortgage rates improved just slightly today, building moderately on Friday's strength following the weaker jobs report. That having been said, the pace of improvements is a bit lacking compared to historical examples of reactions to weak jobs numbers. The most prevalently quoted conforming 30yr fixed rate for the very best borrower scenarios (best-execution) remains at 4.375% with 4.25% and 4.5% both still fairly close. When adjusted for day to day changes in closing costs, rates fell an equivalent of 0.02% today."
The article quoted above also says, "One potential reason for the lack of fervor in moving to lower rates is the pace of the improvements seen so far in 2014. In other words, they fell at the second fastest pace in over 2 years, and as such, may have run most of the course they were willing to run, even before the jobs numbers were announced. After all, the best rates of the year were seen last Monday, while Friday's improvement only got us halfway back to those levels."
Blue Loan Services explains that if it turns out that markets are waiting for more information before deciding how they will move, this week's upcoming congressional testimony by new Fed chair person Janet Yellen might provide enough of a push. The company explains, while no big changes are expected in Fed policy, market investors may feel more confident about whether they should be buying or selling once they have confirmation on what the Fed is planning.
Until then, though, it is impossible to tell with any certainty which way rates will head once they start moving again. The predictions for 2014 have rates steadily moving higher, and because of this Blue Loan Services has been advising borrowers that any move lower should be seen as a good opportunity to lock their loan rate.
Blue Loan Services can help those who wish to lock in today's low mortgage rates to find the best possible loans for their situation and work quickly to get approved so that they can avoid higher rates down the line. Their fast online loan application and documentation portal makes it simple for clients to submit their application and keep track of their loan's progress. With a reputation for fast, reliable and courteous service, the company's team of experienced loan officers can be especially useful during this time of uncertainty.
For more information on how Blue Loan Services can help California home loan borrowers get approved for their home purchase loan or refinance quickly, please visit BlueLoanServices.com or call 1-888-929-BLUE (2583) to speak with an experienced mortgage professional.
CA Dept of Real Estate -- Licensed Broker #01094374 NMLS #938365