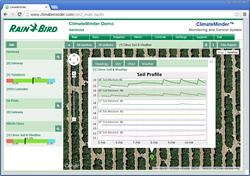 The new dashboard is focused on geolocation, offering a user-friendly map to quickly identify areas which require attention.
Tulare, CA (PRWEB) February 11, 2014
Rain Bird introduces a new multi-ranch dashboard for its ClimateMinder solution, which allows growers to more easily and quickly review field data from all their weather and soil moisture stations using any web-enabled computer or mobile device. The new dashboard is focused on geolocation, offering a user-friendly map to quickly identify areas which require attention, with colored map icons and soil moisture indicators. This new user interface will be demonstrated to growers visiting Rain Bird booth (#2101-2104 in Pavilion B) at the World Ag Expo between February 11th and 13th, 2014.
California farmers facing one of the worst drought conditions in the states' recent history can now utilize wireless sensor technologies more efficiently, thanks to the simplified multi-ranch summary dashboard in ClimateMinder. Growers with multiple ranches and many stations can now see critical information very rapidly on a single web page rather than switching between different pages.
"Our ongoing innovations and investment in engineering resources to build best-in-class technology solutions demonstrates our commitment to agriculture and to the success of California growers. The importance of utilizing real-time field data has never been more crucial for growers facing serious water shortages." said Mark Ensworth, Director of Rain Bird's Agriculture Division.
When it comes to purchasing weather and soil monitoring and irrigation control systems, growers now have more financial support available to them. In a recent press release, USDA announced that it will make $20 million available for agricultural water conservation efforts throughout California to combat the effects of drought. USDA says that this funding will be provided through the Natural Resources Conservation Service's (NRCS) Environmental Quality Incentives Program (EQIP) to help agricultural operators use water more efficiently, stabilize fallowed cropland, and protect their livelihoods for the future. A day later, on February 5th, the U.S. Bureau of Reclamation and Natural Resources Conservation Service announced another $14 million for water management improvements in the state at a Sacramento news conference.
In order to simplify growers' reporting needs, Rain Bird ClimateMinder offers automated applied water reports, which can easily be submitted to NRCS and other agencies. Growers looking for tools to improve their irrigation efficiency can now purchase the right product with confidence. Rain Bird's ClimateMinder is built with Rain Bird's many years of experience in developing irrigation automation products with unprecedented quality standards.
For more information about the Rain Bird ClimateMinder system, visit http://www.rainbird.com/ag/products/ClimateMinder.
ABOUT RAIN BIRD CORPORATION
Headquartered in Azusa, Calif., Rain Bird Corporation is the world's leading manufacturer and provider of irrigation products and services. From simple beginnings in 1933, Rain Bird now offers the industry's broadest range of irrigation products for farms, golf courses, sports arenas, commercial developments and homes, available in more than 130 countries. Rain Bird acquired ClimateMinder in 2012 to help growers increase profits and improve sustainability through the use of state-of-the-art information technologies. http://www.rainbird.com