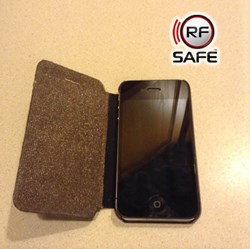 RF Safe's shielded flip case is best solution as it puts proven microwave shielding fabric, the size of the entire cell phone, between the user and cell phone itself that deflects radiation
New York, New York (PRWEB) February 11, 2014
Studies and tests conducted in the United Kingdom have proven wired-headsets do not make cell phones users safer from cell phone radiation, resulting in the British government reversing their recommendation advising consumers to use hands-free headsets as radiation safety devices:
The British government has removed its recommendation that mobile phone users switch to wired handsfree units to avoid radiation from their wireless phones, opting instead to start issuing leaflets warning buyers of the unknown, but potentially harmful impact, of mobile phone usage by children.
The warning leaflets, which will go out to mobile phone retailers in the next few weeks, follow the British government's continuing funding of tests into the effects of mobile phone radio frequency (RF) radiation on the soft tissue of the brain and head.
---- Headset Hazard Number One: SOLVED
Solution - RF Safe Air-tube Headset
The headset wire connecting a cell phone and earbuds at times may serve as an antenna that radiation can radiate from when a wired headset is used with a cell phone. The radiation generated by the cell phone is transferred through the wire connecting the phone and earbuds - than radiation penetrates the head directly through the ear canal. cell phone headset earbud emissions into the ear canal can be higher than the emissions when placing a phone directly against the ear depending on what type of RF test is performed.
RF Safe headsets are a combination of engineering feats that overcome the potential hazards of radiation reaching the ear canal. By delivering live on-stage sound through thin acoustic air tubes instead of wires users can enjoy excellent sound without electrical components in the ears.
"Anyone that's currently using an ordinary cell phone headset, or planning on doing so to limit radiation exposure - needs to learn more about RF Safe Headsets as a solution to cranial exposure to phone radiation when reviewing their headset options," says John Coates, RF Safe Founder.
Radiation concerns aside, RF Safe's acoustic sound delivery to the ears is being highly praised by musicians as live on-stage sound only acoustic tube technology can deliver.
RF Safe Air-tube Headsets are made for all model smart phones with standard 3.5mm and 2.5mm headset jacks. Including All Apple iPhone, Nokia, Google and Samsung Galaxy S Smartphone Models
---- Headset Hazard Number Two: SOLVED
Solution - RF Safe Flip Case Radiation Shields
Even with the problem of having a wire transmitting electromagnetic waves into the head being solved with RF Safe's air-tube headset – more still more concerns exist.
When a phone is attached to a belt and in use, radiation penetrates the body by the phone at an accelerated rate and is absorbed faster than the head because tissues and organs, such as the liver and kidneys, provide better conductivity than the skull and have no bone protection.
Phones will often operate at higher power levels and emit more radiation when they are held lower than the head because the signal becomes more obstructed as the body absorbs more radiation.
Solving this problem is simply a snap! RF Safe offers a cell phone flip case that's a quick snap to install to shield cell phone radiation where you need it. Incorporating the highest grade silver plated shielding fabric over the inside of the flip screen cover, when this cell phone flip case is closed the flip is now a barrier that blocks cell phone radiation through the process of microwave deflection.
"Currently all model flip cases are shielded by hand at RF Safe, with mass production being tooled up for now. We can only shield so many a day at the moment, the demand for RF Safe's shielded flip cases has been so great we can't keep them in stock," explains Coates.
RF Safe's Founder goes on to say, "there isn't a product anywhere that offers this sort of versatile protection anywhere on the market. Other cases on the market claim radiation protection by adding an additional antenna in the back of the case to pull some of the radiation away from the user. RF Safe's shielded flip case is the best solution as it puts proven microwave shielding fabric, the size of the entire cell phone, between the user and cell phone itself that deflects radiation."
The shielded flip case by RF Safe has small shielded holes in the flip screen cover to conveniently hear clearly with the flip closed so the RF shielding is between the users head and cell phone when a phone is used normally against the head. RF Safe flip case is also perfect for those using air tube headsets on the go as well, when the shielded flip case closed, simply slip the phone into a shirt or pants pocket with the front (shielded part of the phone) facing the body.
RF Safe is making custom shielded flip cases for most popular Apple and Samsung smart phones, with a universal flip case coming soon to include shielding Smartphones that are hard to find flip cases to apply RF shielding.
RF Safe Flip Cell Phone Case For New Apple iPhone Models
RF Safe Cell Phone Flip Case For Samsung Galaxy S Smartphone Models
To stay up-to-date in the concerns facing radiation from cell phones and the best protection from the only company in the world with over 15 yrs of phone RF shielding experience, visit http://www.rfsafe.com