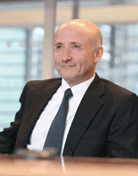 The adoption of Annex SL is the beginning of the end of the conflicts, duplication, confusion and misunderstanding from different MSS.
(PRWEB UK) 12 February 2014
In the latest issue of Quality World, the flagship publication of the Chartered Quality Institute, the leading question in this month's issue is 'will the adoption of Annex SL make accredited certification cheaper for clients, but more onerous for auditors?'.
Annex SL defines the framework for generic Management System Standard (MSS) so as to ensure that the text used is aligned to the extent that they have, where practical, identical clause titles, sequence of clauses, definitions and as much identical text as feasible.
Some of the industry's leading voices in quality gave their views which included insight from the Chief Executive of the United Kingdom Accreditation Service (UKAS) - Mr Paul Stennett – who said "the consistency of content driven by Annex SL should ultimately benefit both customer and auditor, regardless of which elements of the many management systems standards are being assessed."
Another viewpoint came from Marcus Long, Chief Executive of the Independent International Organisation for Certification (IIOC) – whose Chairman is Mike James, Managing Director of LRQA. "Annex SL should build awareness of management systems, demystifying and helping more people see the benefits of the widening range of certification schemes – clear priorities over cost or auditors' burden," said Long.
Further opinions were also submitted by Colin MacNae, Chair of the CQI Standards Panel and Trevor Nash, Chief Executive of the Association of British Certification Bodies, all of which can be read here.
At LRQA, we believe that it makes complete sense for all ISO MSS to be consistent and compatible and will enable our global auditor network to focus their own and their clients' thinking on viewing organisations' management systems holistically. "The adoption of Annex SL is the beginning of the end of the conflicts, duplication, confusion and misunderstanding from different MSS," said LRQA's Mike James. "In terms of the assessor development needs for Annex SL, we believe that LRQA has a head start due to our history and depth of experience in assessing the synergies between managing risk and assurance through the application of our unique Business Assurance assessment methodology."
Mike James will be speaking at The Chartered Quality Institute's Leadership Conference 2014 on April 1st. In addition, LRQA UK will be holding a series of workshops in April 2014, designed to help organisations understand the proposed changes to international quality management system standard, ISO 9001 and you can register for these here.
Further information about the ISO Standard Revisions - to include blogs and round table discussions - will appear on http://www.lrqa.com/isostandardsupdate. Alternatively, please email enquiries(at)lrqa(dot)com.
Notes to editors
About LRQA
LRQA is a member of the Lloyd's Register group. LRQA is a leading independent provider of assurance services including assessment, certification, validation, verification and training across a broad spectrum of standards and schemes. For Group details see http://www.lr.org/entities.
About Lloyd's Register
Lloyd's Register (LR) is a global engineering, technical and business services organisation wholly owned by the Lloyd's Register Foundation, a UK charity dedicated to research and education in science and engineering. Founded in 1760 as a marine classification society, LR now operates across many industry sectors, with over 9000 employees in 78 countries.