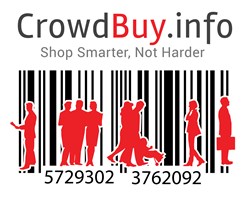 Crowdbuy.info's Mobile Shopping Assistant application allows price comparison while shopping and allows viewing on desktop and tablets.
Sydney, Australia (PRWEB) February 12, 2014
Crowdbuy.info: The power of crowdsourced social shopping gives birth to the world's first crowd built price comparison website.
The Crowdbuy.info Android and iPhone price comparison app has been out since late last year. It allows shoppers to independently scan regular barcodes and perform keyword searches while shopping to verify they are getting the best available prices.
The store is built by Crowdbuy.info shoppers via scans and searches performed with their app and can be found at http://www.crowdbuy.info/store. Details of items identified by their iPhone and Android application in United States, United Kingdom, France, Australia and Germany can be viewed and compared on this online price comparison store.
"Many of our users suggested that they would like to be able to view the items they scanned with their mobile phone back at their desktops and to be able to share with their friends and family. We took their feedback on board and our team have developed the website that allows the scanned items to appear real time on our website," commented Mike Duffy, CEO of Crowdbuy.info.
"We have partnered with global heavyweights such as eBay, Amazon and many local stores both online and in traditional physical high street stores to allow our shoppers to make the best informed decision when considering their purchases."
Downloading the app is free on both iPhone and Android and remains ad free. Stay tuned for more exciting developments at their website - http://www.crowdbuy.info.
Notes to Editors:
For more details on the app contact info(at)crowdbuy(dot)info.
The app is available for the iPhone or iPad here - https://itunes.apple.com/us/app/crowdbuy.info/id772625016?ls=1&mt=8.
The app is available for Android tablets or smartphones here - https://play.google.com/store/apps/details?id=info.crowdbuy.mobile.
Connect with us on Facebook at - http://www.facebook.com/crowdbuy.info.
Google+ - http://plus.google.com/+Crowdbuyinfo.