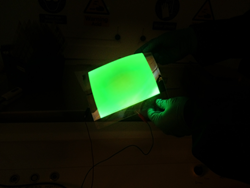 OLED is suitable for integration into structures such as vehicles or building materials, or used to create functional items including wearable tech, clothing or intelligent packaging.
Sedgefield, UK (PRWEB UK) 26 February 2014
The Centre for Process Innovation's Organic Light Emitting Diode (OLED) prototyping line is helping materials companies to produce a range of next generation OLED demonstrators for novel lighting and display technology.
The line, which has created a number of flexible OLED devices using a range of substrates at different thickness, is assisting industries such as automotive, aerospace, architecture and medicine to explore new areas of application and scale-up the production of their technologies.
Thin and conformable, OLED technology is extremely energy efficient, lightweight, and takes up very little space, which allows it to be fully integrated into structures such as vehicles or building materials, or used to create functional items including wearable tech, clothing or intelligent packaging. The lighting technology could also be directly applied to surfaces, creating potential for the entire exterior of buildings to become advertising, or whole walls and ceilings to be illuminated.
The demonstration devices manufactured on CPI's OLED/OPV Prototyping Line, have been built with thickness ranging from 50µm to 125µm and the device chemistry can be modified to produce a variety of colours. The device structure consists of an Indium Tin Oxide anode, evaporated hole injection layer, co-evaporated emissive layer and a conventional cathode and is encapsulated using a pressure sensitive adhesive and a commercially available barrier material.
A video of the OLED lighting demonstrators can be viewed here: http://youtu.be/JblIdp0kkBQ.
Designed to enable the development and production of OLED and organic photovoltaic technologies, the prototyping line is located within CPI's state of the art ISO Class 5 clean room facility and provides materials companies, device designers and end users with the opportunity to develop their technology within an automated and closely controlled environment.
Furthermore CPI is currently investigating a number of methods for device encapsulation and is collaborating with adhesive, getter, and barrier film suppliers to produce robust manufacturing processes aimed at maximising lifetime and device performance. This includes collaborative projects that are investigating the production of prototypes for the characterisation and development of high performance barrier layers.
CPI's technology roadmap aims to advance the development of flexible optoelectronic devices and address many of the challenges encountered in the scale-up of emerging technologies to commercialisation by adopting roll to roll processing techniques.
CPI plans to further enhance its capability with the installation of a 300mm web roll to roll (R2R) coater for the printing of a range of organic material sets. The system will include both slot die and screen printing capabilities, with options to upgrade to 500mm web width and to incorporate other printing techniques such as reverse gravure.
An encapsulation module will also be installed, allowing devices manufactured within the roll to roll coater to be laminated using a barrier film, thus providing protection to the device from water and/or oxygen ingress, both of which are detrimental to device performance and lifetime.
About CPI
The Centre for Process Innovation is a UK-based technology innovation centre and part of the High Value Manufacturing Catapult. We use applied knowledge in science and engineering combined with state of the art development facilities to enable our clients to develop, prove, prototype and scale up the next generation of products and processes.
Our open innovation model enables clients to develop products and prove processes with minimal risk. We provide assets and expertise so our customers can demonstrate the process before investing substantial amounts of money in capital equipment and training. New products and processes can be shown to be feasible; on paper, in the lab and in the plant before being manufactured at an industrial scale.
By utilising our proven assets and expertise companies can take their products and processes to market faster. There is no down time in production as all of the process development is completed offsite and our technology transfer and engineering teams can help companies to transfer the product or process into full scale production at speed.
CPI is the UK's National Centre for Printable Electronics, focusing on the development, scale-up and commercialisation of printable electronics applications such as OLED displays and lighting. CPI is equipped with an extensive range of assets specifically chosen and developed to allow clients to understand how their products and processes perform under pilot manufacturing conditions.