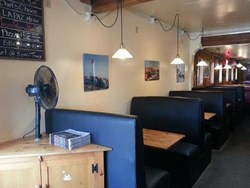 Whidbey Island, WA (PRWEB) February 11, 2014
Leading commercial furniture distributor, Restaurant Furniture.net recently teamed up with Cozy's Roadhouse in Clinton, WA upgrade its image with new restaurant booths and bar stools.
Cozy's Roadhouse Is located in the town of Clinton on Whidbey Island in Washington state. It is the oldest restaurant in South Whidbey. Cozy's was established in 1932 and through many decades they have been the hub of Clinton. Locals come here to eat and visit with their neighbors. On any given night you will hear a story about someone's grandparents and when they used to come in to Cozy's. It is just one of those old local spots that just are not so common anymore. It is an, "Everyone knows your name kind of place".
In 2006 new owners from South Whidbey bought the old restaurant. They renovated and restored the Cozy's. They pride themselves in serving good, home-cooked food. It is a favorite among locals and visitors to the island. House specials include clam strips and various sandwiches for lunch such as the Philly steak sandwich and comfort food for dinner entrees such as chicken fried steak.
The owner of Cozy's Roadhouse needed high quality commercial seating that would look great and be able to withstand the high traffic that the bar experiences on a daily basis. "The owner needed sturdy, durable bar stools and dining booths that look great, but he didn't want to spend a lot of money", explained David M. He turned to Restaurant Furniture.net because of their reputation for premium quality and strong built furniture at affordable prices. Restaurant Furniture.net supplied Cozy's Roadhouse with high quality bar stools and restaurant booths at competitive prices that fit well within their budget.
For seating decided to go with vertical slat metal bar stools back chairs with black frames and vinyl padded seats in wine color. Customers can choose a solid wood seat or an American made padded seat made of vinyl or fabric. Wood seats are available in 6 different finishes. The frame is available in black, copper vein, silver vein, gold vein or gold. The Vertical Slat Metal Bar Stools sell for $53 Matching bar stools are currently on sale for $49.99. A Vertical Slat Swivel Bar Stool is available for $55 and it also comes in a matching chair for $38.
For dining booths he decided to go with Restaurant Furniture.net's Standard Single and Double Quick Ship Booths in black vinyl. The restaurant booths are made in the USA and prices start at only $188. The booths are reputed for their excellent craftsmanship and can be delivered in 7-14 days. The booths can also be custom made in any size or shape and in any material.
Browse Restaurant Furniture.net's full selection of commercial grade chairs, bar stools, table tops, table bases, booths and patio furniture at http://www.restaurantfurniture.net or talk to a customer service representative at (888) 409-1115
Cozy's Roadhouse is located at 8872 Washington 525 in Clinton, WA. They can be reached at (360) 341-2838.