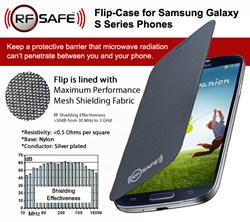 RF Safe is using the most well know method of shielding electromagnetic waves known to man.
Palo Alto, California (PRWEB) February 12, 2014
The Government has not made it official that cell phone radiation is harmful to health – but recent studies have shown that just 50 minutes of cell phone use affects brain activity in the area of the brain closest to the phone, and the World Health Organization has reclassified cell phone radiation as a Class 2B "potentially carcinogenic for humans."
A company called RF Safe – which stands for Radio Frequency Safe, claims that they've developed the best handset shielding solution, in the form of a smart phone flip case.
The problem RF safe claims to be solving is that mobile devices emit microwave energy, and a large majority of that radiation is absorbed by the heads and bodies of cell phone users while making calls.
'We reduce radiation by keeping a deflective barrier between the phone and user that still allows for practical phone usage while protecting user and keeping the phone looking like new." - Senior Director of Marketing at RF SAFE, Cory Schop
The RF Safe flip case, which is available for a variety of different smart phones, claims to deflect excessive radiation exposure by shielding radiation directed towards the phone user.
But how do we know whether it's actually working?
RF Safe's chief technology officer, says that RF Safe is using the most well know method of shielding electromagnetic waves known to man. "There is no magic to RF Safe's methodology of shielding microwaves from cell phones, it's just simple science first discovered in 1836 by Dr Michael Faraday" says, John Coates
Cell Phones operate using radio waves to communicate with cell phone towers - the frequency of these radio waves use the microwave spectrum, nearly the same 2.4 GHz frequency as the microwave oven found on most kitchens counter tops. The only difference being the wattage output powwr.
The metal screen covering a microwave ovens glass door is a great example of where people use RF Safe's same phone shielding technology to deflect microwaves when cooking food.
"The high performance silver plated microwave shielding fabric that lines the inner part of the flip cover effectively shields the entire front of the phone, keeping a barrier between the user and phone that deflects radiation the same way as the screen in a microwave oven door", Coates explains.
The cases have shielded earpiece holes in the flip cover that allow users to talk on the phone with the flip shield closed for maximum protection when holding the phone to the ear.
One of the best things about RF Safe's Flip Case Phone Radiation Shield is that it is entirely discreet. The entire flip case from the exterior looks and feels like any other high-end quality Smartphone flip case.
But even Mr. Coates admits that the flip case by itself isn't a complete solution to avoiding potential health hazards from exposure to cell phone radiation, simply because there is not enough information known about how safe even very low levels of microwave radiation are.
According to RF Safe, it's highly recommended that cell phone users that need to talk privately for long periods of time use an RF Safe's air-tube headset and keep the phone away from the body as far as possible. Ideally, speaker phone or texting for quick conversations and messages is best when possible.
"Nobody can say for sure where the threshold for safe and unsafe exposure exist. We can't say that someone using RF Safe accessories is going to be completely safe from radiation, but we can do several things to reduce our exposure to radiation, and when it's officially accepted the cell phone radiation is potentially carcinogenic to humans – RF Safe's stance is that less exposure to potentially carcinogenic radiation is better"
To find out more about the RF Safe Flip case radiation shield and RF Safe Air-tube headset visit http://www.rfsafe.com
Follow RF Safe on Facebook for special deals and the latest news of cell phone radiation safety https://www.facebook.com/SafeCellPhones.