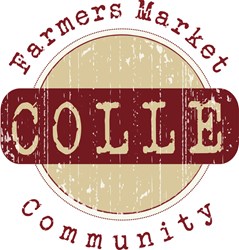 Bohemia, NY (PRWEB) February 15, 2014
Colle Farmers Market, an organic farmers market, responds to an article by USDA on January 2, which details how one Montana couple developed an unconventional approach toward organic farming.
According to the USDA article titled "Montana Seed Growers 'Sow' Importance of Organic Farming," Anna Jones-Crabtree and Doug Crabtree, a couple from Montana, partake in organic farming practices that slightly differ from most. Instead of traditional crop rotation patterns, the article says that the Crabtrees grow a wide variety of crops in a 5-year rotation.
The Crabtrees grow about 15 different crops. These include flax, lentils, oats, red spring wheat, durum, sweet clover, vetch, peas, rye, winter wheat, buckwheat, safflower, sunflower, spring peas and chickling vetch. The article says the farm is divided into strips, harboring one crop per strip. Each strip is about one mile long and 240 feet wide. However, the strips also feature buffers of native grazing land to capture moisture during the winter.
The Crabtrees don't use pesticides or herbicides. Instead, they operate as naturally as they can and use tillage to control invasive plants. The article says the Crabtrees have had a lot of success with the farm and partnered with Timeless Seeds to sell their lentil crops.
A representative from Colle Farmers Market, the leading online organic farmers market, says the Crabtrees have developed a great way of sustainable organic farming. "They let nature guide the way for them, and that's a very peaceful way of looking into farming," the Colle rep says. "The Crabtrees have stated that they are growing food, not just doing it to make a statement. It helps put everything into perspective. Food should be natural, and the Crabtrees understand that. More organic farmers should strive to be like the Crabtrees."
Colle Farmers Market is an E-Commerce enabled farmer's market community that is passionate about sustainable consumption and responsible conservation. The Colle movement is dedicated to connecting natural product vendors, organic farmers and all people who are living an organic and natural lifestyle.
#####