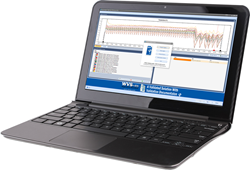 Hassle free software download.
(PRWEB) February 12, 2014
DSI (Deadline Solutions, Inc.) developed the WVS application to make temperature validation studies easier than the options available at that time. Initially, DSI created the WVS application so that the DSI validation team could perform temperature and humidity studies more efficiently for their pharmaceutical customers. However, WVS is not limited to uses in the pharmaceutical industry.
WVS uses LogTag data recorders to collect environmental readings. These same LogTags find uses in many other applications such as Cold Chain validation. WVS can read LogTag devices packaged with products like food, chemicals or pharmaceuticals that require a continuous specific environmental condition. WVS can then provide documented evidence of the environmental conditions during the product's shipping and transit.
Using LogTag for HVAC studies can provide a mapping of a room or entire building's environmental conditions over time. Using this information can reveal hot or cold spots in an area or even the effects from opened doors. In Laboratory and Scientific applications, LogTags and WVS can verify storage conditions for materials used in research and development or even epidemiological studies.
To protect the privacy of WVS users, DSI does not require any user information for the download or use of the WVS application. This hassle free software download is fully functional, without limitation or watermarks. You can download WVS at http://www.deadlinesolutions.com/index.php/get-wvs. In the coming year, DSI is releasing other WVS product options including GMP validation documentation and a WVS version with cloud data synchronization.
With WVS Cloud functionality, users can program, read and report on the LogTag recorders from PCs all over the world linked via the internet. The cloud based WVS will be a great Cold Chain solution for the shipping and transport industries. For the pharmaceutical industry, DSI will have available a complete set of validation documentation to support GMP and 21 CFR Part 11 by the end of 2013. The validation package includes specification and qualification documentation. DSI also offers complete validation services and WVS study services.
About Deadline Solutions, Inc.
Located in Syracuse, NY, Deadline Solutions, Inc. provides automation (DSC, PLC, SCADA) services, validation (21 CFR Part 11, cGMP Commissioning, Qualification, etc.) services, and custom software solutions to small and large companies. For engineering services DSI's team of engineers have experience with a wide range of platforms and standards like ABB and DeltaV Distributed Control systems(DCS), GE, Allen Bradley, Rockwell PLC/SCADA systems and many more. For validation needs, the DSI validation team executes a wide range of commissioning, acceptance test, installation, operational, and performance protocols. DSI also integrates mobile devices such as iPhone, Android and BlackBerry, offers data analysis and reporting solutions for Oracle, SQL Server, MVC, SharePoint, Crystal Reports, InfoBatch and others. LogTag® is a registered trademark of LogTag Recorders Limited.
LogTag® is a registered trademark of LogTag Recorders Limited.
WVS® is a registered trademark of Deadline Solutions, Inc.