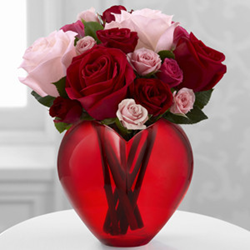 Atlanta, GA (PRWEB) February 12, 2014
Peachtree Petals, a leading new Atlanta Florist and FTD Master Florist, announces its very own Peachtree Petals' Valentine's Design Bouquet. The announcement comes in an effort to inform its customers of an exciting floral option to custom design a superior floral arrangement for Valentine's Day. Peachtree Petals has established itself as a premier florist and pursues to be the best choice for floral services within the Atlanta and surrounding Atlanta areas.
The Peachtree Petals' Valentine's Design Bouquet is a one-of-a kind, handcrafted arrangement, and tailor-made for that special friend or loved one. Customers can inform Peachtree Petals of whatever creative and amazing idea they desire for their Valentine's Day Bouquet to be designed, using all the traditional Valentine's Day colors we have come to love and enjoy. Whether it consists of Valentine's Day hues of reds, pinks, whites, and more, Peachtree Petals will custom design an a bouquet just for you. Customers are able to select whatever design level they like, depending on the dollar value they desire to spend for their Valentine's Design Bouquet.
Peachtree Petals offers a wide range of design levels for The Valentine's Design Bouquet. The prices range from $50.00, up to $400.00. Arrangements can be made in a variety of styles as well, including romantic, contemporary, colorful, classic, and more. The florist's designers have over 25 years of combined experience and truly love their craft. As a result, every Valentine's Design Bouquet will be simply amazing for each and every customer. For special design bouquet requests above the listed amounts, customers are recommended to contact Peachtree Petals directly via phone to discuss your Valentine's Day floral arrangement.
As Valentine's Day approaches this Friday, customers can be pleased to know that they can count on Peachtree Petals to meet all of their floral and assorted gift needs. The Atlanta florist is most known for its same-day delivery throughout the Atlanta area. Standard delivery fee is all Valentine's Day Bouquets is an additional $9.99, and orders can be placed via phone or conveniently online at http://www.peachtreepetals.com.
Peachtree Petals is a recognized leading florist, able to meet any of your floral needs. From headquarters in Atlanta, Georgia, Peachtree Petals provides floral services from quality floral arrangements, and wedding bouquets, to wedding consulting, and assorted gifts nationwide. The Atlanta florist offers high-quality flowers with a standard free delivery of all bouquets in the Atlanta and Metro Atlanta.