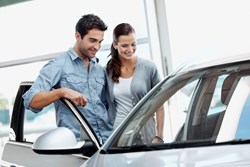 Lincoln, RI (PRWEB) February 11, 2014
Buying a new or used car is exciting, but there are many details to consider before making a purchase. That's why Amica Insurance is sharing some tips that will lead to a positive car-buying experience.
According to the Federal Trade Commission, car buyers should follow these four tips:

Do research. Compare models and prices in ads and at dealerships to search for the best possible car at an affordable price.
Be prepared to negotiate price, as dealers may be willing to bargain. Doing so can save money, whether paying cash or financing the car.
Compare financing offered by lenders to what is offered by the dealer. Since offers vary, search for the best deal.
Don't settle. If you don't find a good fit on the dealer's lot, consider ordering a new car. Although it may take longer, you'll be more satisfied with a vehicle that has all the right features and options.
Additionally, the Insurance Institute for Highway Safety reported some key features to look for when assessing the safety of a vehicle. Larger, heavier cars typically offer more protection than smaller, lighter ones. To reduce the risk of death or injury, look for a vehicle with a tested, crashworthy design.
About Amica Insurance
Amica Mutual Insurance Co., the nation's oldest mutual insurer of automobiles, was founded in 1907. The company, based in Lincoln, R.I., is a national writer of automobile, homeowners, marine and personal umbrella liability insurance. Life coverage is available through Amica Life Insurance Company, a wholly owned subsidiary. Amica employs more than 3,200 people in 40 offices across the country.
CONTACT: Vince Burks, Corporate Communications, 50 Amica Way, Lincoln, RI 02865-1155, 800-652-6422, ext. 24563
Twitter: Amica
Facebook: Amica Mutual Insurance Co.