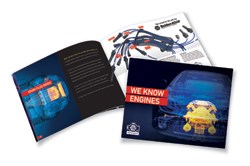 Long Island City, NY (PRWEB) February 12, 2014
Standard Motor Products, Inc. selected TFI Envision, Inc. to design and develop a logo and first communication piece for the NAPA® Engine Systems Council. The NAPA® Engine Systems Council is made up of leaders in engine control and fuel systems, including ACDelco®, Bosch, Champion®, Autolite®, NAPA® Echlin® and others
TFI Envision first created the NAPA Engine SystemsSM logo that unified multiple manufacturers by utilizing the universal symbol of the "check engine" surrounding the NAPA logo.
TFI Envision, Inc. also created the first communication piece from the council – "We Know Engines." The 36 page full color brochure is an easy reference for NAPA® customers featuring the most extensive inventory of engine control and fuel systems in the industry, giving NAPA® customers a competitive edge and help them grow their business.
Since 1975, TFI Envision, Inc. of Norwalk, CT, has specialized in developing strategic design and marketing solutions for branding, packaging, promotion, digital and corporate communications; helping organizations achieve their marketing and communication goals with compelling, consistent messaging that is on brand and on target.