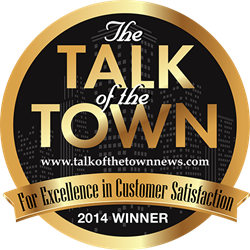 The most valuable endorsement we can receive is that of our loyal customers.
Lafayette, LA (PRWEB) February 12, 2014
Ace Plumbing, a full-service "personal plumber" serving Acadiana for more than three decades, has earned the five-star Customer Satisfaction Award representing excellence in customer service from Michigan-based business and consumer advocacy group Talk of the Town.
Talk of the Town provides comprehensive customer satisfaction research for businesses across the United States and Canada. Its unbiased rating system combines data collected from customer reviews, surveys, blogs, social networks, business-rating services, and other honors and accolades to determine the nation's top consumer-rated businesses.
Ace Plumbing's five-star rating represents Talk of the Town's highest achievable designation.
"The most valuable endorsement we can receive is that of our loyal customers," said Ace Plumbing Owner Bryan Tabor. "So to receive an award acknowledging satisfaction in our service means we're achieving what we set out to do 30 years ago. It's truly an honor to be recognized for the work we do every day for our Acadiana customers."
Only the highest-rated businesses, those with a four- or five-star rating, win the Talk of the Town Customer Satisfaction Award. To search a complete list of businesses that have received top honors, visit http://www.talkofthetownnews.com and click Ratings.
###
Ace Plumbing is a full-service personal plumber offering a wide range of installation, repair and replacement services to Acadiana. Its staff of professionally trained, highly skilled technicians has earned an outstanding reputation for reliability, professionalism and an unsurpassed level of customer service. Learn more by visiting http://www.aceplumbinginc.com or calling 337-565-2194.