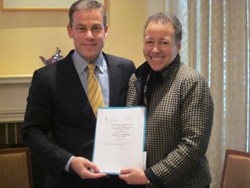 CIEE and Spelman College's partnership is expected to increase the number of Spelman students with international travel experience prior to graduation by more than 35 percent.
Portland, ME (PRWEB) February 11, 2014
The Council on International Educational Exchange (CIEE), the oldest nonprofit study abroad and international exchange organization in the country, and Spelman College, the oldest historically black college for women in the U.S., have joined forces to offer four custom study abroad programs this spring in an effort to significantly increase the number of students and faculty participating in international education.
For two weeks, May 11-25, 2014, students on these specially designed programs will visit one of four locations: Lima, Peru; Legon, Ghana; Santo Domingo, Dominican Republic; or Lisbon, Portugal. Eight Spelman faculty members will serve as co-directors and accompany students overseas. Each program offers clear learning outcomes and full immersion into the host countries' cultures through co-curricular activities and engagement with locals. While abroad, students will also take part in a customized intercultural engagement curriculum taught by CIEE staff, which will enhance their intercultural competencies and leadership skills.
"We are excited to partner with CIEE on this global education experience," said Spelman College President Beverly Daniel Tatum, Ph.D. "These custom programs will give Spelman students a unique opportunity to have a meaningful international experience in the company of faculty who can help them understand the intercultural context of the countries they visit. This effort is in keeping with our Quality Enhancement Plan, which emphasizes the importance of thinking globally, as well as the development of cultural competencies gained through international study-travel."
Dimeji Togunde, Ph.D., associate provost for global education and professor of international studies at Spelman College, echoed this statement, saying, "Our goal is to equip students with a firm knowledge of the similarities and differences between two world societies—in this case, their visited country and the U.S.—with the help of reflective journaling and cross-fertilization of ideas. With a global perspective in hand, our students are better prepared to navigate diverse global cultural landscapes, function effectively, and be successful as positive change agents in a rapidly changing global society."
By offering these custom programs, CIEE and Spelman hope to revolutionize study abroad participation to include students from a broad range of majors and academic years, supporting the college's Spelman Going Global! initiative. Through this strategic effort, Spelman seeks to provide every student with an international travel experience before graduation. Since its implementation in 2009, Spelman has increased the number of students with global travel experiences from a yearly average of 75-100 to 279 students during the 2012-2013 academic year. The partnership with CIEE is expected to increase this number by more than 35 percent.
To support students' study abroad, Spelman and CIEE will provide each student with a scholarship that covers 50-75 percent of program expenses. "Dr. Togunde approached us last year to work closely with Spelman faculty and his study abroad staff to create a program that meets the college's bold vision to ensure every Spelman graduate becomes globally aware through international study," said Kellie Sullivan, director of faculty-led and custom study abroad programs at CIEE. "Under his leadership, this program overcomes the most common barriers students face to studying abroad: cost, curriculum, and culture. It provides an excellent initiation to international study and will likely spark a passion in students for more. We're honored to be part of this innovative program that increases access and enhances the undergraduate academic experience of Spelman students."
CIEE hopes that in developing these custom programs, Spelman can serve as a model for other academic institutions around the country focused on increasing access to international study. "With significantly more women assuming positions of leadership in industry, technology, healthcare, and government, President Tatum's vision to expand global learning opportunities for Spelman's future alumnae is inspiring," said James Pellow, Ed.D., CIEE president and CEO. "Graduates with intercultural skills and competencies obtained through study abroad experiences are better prepared to lead in our ever-changing and interconnected world. CIEE is proud to collaborate with Spelman's academic and global program' leaders to help realize President Tatum's vision."
CIEE: Council on International Educational Exchange
Founded in 1947, CIEE is the country's oldest and largest nonprofit study abroad and intercultural exchange organization, serving 300 U.S. colleges and universities, 1,000 U.S. high schools, and more than 35,000 international exchange students each year. CIEE operates 60 study centers in 40 countries, sponsors international faculty training programs, teach abroad programs, and various specialty and custom programs for secondary, post-secondary, and international students. Visit http://www.ciee.org.
Spelman College
Founded in 1881, Spelman College is a highly selective liberal arts college widely recognized as the global leader in the education of women of African descent. Located in Atlanta, Ga., the College's picturesque campus is home to 2,100 students. Outstanding alumnae include Children's Defense Fund founder Marian Wright Edelman; Sam's Club CEO Rosalind Brewer; Broadway producer Alia Jones; former Acting Surgeon General and Spelman's first alumna president Audrey Forbes Manley; Harvard University Professor Evelynn Hammonds; author Pearl Cleage; and actress LaTanya Richardson Jackson. Visit http://www.spelman.edu.