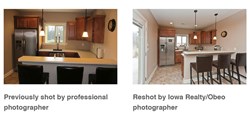 The Obeo photos that were taken of my two listings turned out amazing! I can't wait to put them on the web. Awesome choice for photographers - Iowa Realty will definitely stand out from the rest!
Des Moines, IA (PRWEB) February 12, 2014
In the largest deal of its kind ever done, Iowa Realty, the leader in Iowa Real Estate, has teamed up with Obeo, to offer its agents Obeo's cutting edge marketing solutions. For over 50 years, Iowa Realty has worked with buyers and sellers of houses, condos, patio homes, townhouses, multi-family units and commercial real estate in Iowa. Now, Obeo's marketing technology and world class professional photography will be on every single listing marketed by Iowa Realty.
Iowa Realty agents are encouraged to pre-order Obeo's world class photography before their listings are entered into the MLS. It's a process designed to ensure that listings will be entered into the MLS with professional photography, and will have the biggest possible impact from day one. Jane Crawford, of the Waukee/Adel Iowa Realty Office shares that "I had two offers within 24 hours of adding Obeo photos and sold for full price. Gotta think the photos helped with all of that!"
Once the listing and photos are entered into the MLS, Obeo's automated marketing engine, EasyEdge starts rolling out the marketing. Obeo's EasyEdge marketing technology will auto-create property websites and an entire suite of marketing tools. It will auto-build and upload high definition YouTube videos. It will auto-syndicate to all the top Real Estate portals and social media platforms. It will auto activate a complete lead generation and mobile text marketing program. It will even auto-generate a content marketing package consisting of brochures, eflyer, and more.
Obeo offers Iowa Realty a hassle free process that fits the needs of their agents. Iowa Realty believes agents are at their best when they're listing, showing, and selling. So they want Obeo to take care of everything associated with marketing their listings. There are no forms to fill out or photos for agents to upload. Everything is completely seamless and automated. Obeo's technology not only provides the agents more time to win listings, it helps them sell those listings faster.
Iowa Realty agents will be able to include Obeo's additional See You There Suite® of interactive tools on any listing. These tools include virtual staging, virtual decorating and interactive floor plans. Beginning in March, Obeo's interactive Room Decorator will be included on every Iowa Realty listing. Potential buyers will be able to interact with and personalize listing photos with the furniture and décor that inspires them. They'll also be able to try out different flooring choices, paint with different color palettes and more. Shoppers will become buyers when they are able to design a home to look the way they would live in it.
With Obeo's EasyEdge technology, Iowa Realty offers its agents the ease of automation, the confidence that they are using the best marketing technology available, and the success that will come when Obeo's interactive tools and world class photography accelerate the buying decision. For more information on Obeo's EasyEdge Marketing technology, please call 800-729-6236.
About Obeo
As a leading innovator and provider of Real Estate marketing technology in North America, Obeo offers strategic solutions to real estate professionals looking to stand out from the rest. Obeo's marketing engine provides world class photography, virtual staging and redecorating, extensive portal syndication, and lead generating social media marketing. Obeo delivers the "ah-ha," experience that leads a buyer to say, "I could see me there." To find out more, go to http://obeoeasyedge.com/.