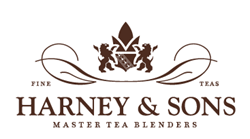 New York, NY (PRWEB) February 11, 2014
Harney & Sons Fine Teas announces their brand partnership with Birchbox, a leading beauty e-commerce company that helps men and women discover the best beauty, grooming, and lifestyle products. Harney & Sons' Wrapped Sachets will be featured in Birchbox's February box. Celebrating 30 years as a family owned and managed company, Harney & Sons continues their mission of providing tea drinkers access to the best quality tea.
Harney & Sons joins Birchbox to reach and engage new consumers through their monthly boxes and curated e-commerce shop. Each month, Birchbox subscribers receive a box of 4-5 deluxe samples from prestige brands, tailored to their needs. February's box is the first of three sampling campaigns Harney & Sons will engage with Birchbox.
This February, a subset of Birchbox subscribers will receive one of four Harney & Sons Classic Wrapped Sachets: Paris, Organic Bangkok, Mint Verbena and White Vanilla Grapefruit. All of these teas have been selected as part of Birchbox's exclusive "Step and Repeat" themed box. After sampling, Birchbox subscribers can shop the full-sized Wrapped Sachets on the Harney & Sons' brand page on Birchbox.com.
Harney & Sons continues to provide tea drinkers new and exciting ways to discover their tea through their partnership with Birchbox. Over the past 30 years, Founder John Harney's small home-run business in Salisbury, Connecticut has turned into a global operation. The company sources, blends and packages their own products from start to finish. Harney & Sons continues to grow with three active generations working together to preserve the family's tradition of fine tea.
About Harney & Sons Fine Teas
This year, Harney & Sons Fine Teas celebrates 30 years of success. With three active generations working in and dedicated to the family business, they specialize in delivering high-quality teas and tea products to their customers from the tea garden to teacup. Now headquartered in Millerton, New York, the company fills 90,000 square feet of warehouse space, and employs more than 170 people, making it one of the largest employers in the Hudson Valley. Their goal is to bring the exotic aromas and refined tastes from around the world to tea drinkers as an affordable luxury.
About Birchbox
Launched in 2010, Birchbox is a leading beauty e-commerce company for both men and women. Birchbox redefines the retail process by offering consumers a personalized way to discover, learn about and purchase the best beauty, grooming and lifestyle products. With more than 400,000 members, Birchbox users enjoy first-touch experiences with new products each month and exclusive access to expert editorial content to help them get the most out of each item. Additionally, through Birchbox's online store, customers can shop a handpicked selection of full-sized products from more than 500 top brands such as Lancôme, Laura Mercier, Benefit, Stila, Caudalie, Payot, L'Occitane, Bourjois, and L'Oreal. In 2012, Birchbox acquired Paris-based JolieBox, gaining outposts in France, Spain and the UK. To learn more about Birchbox, visit http://www.birchbox.com, or follow us on Facebook and Twitter and YouTube and our blog.