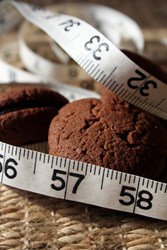 It's not often you hear a doctor recommending cookies, but Dr Siegal's unique recipe offers a new option for people struggling to lose weight.
UK (PRWEB UK) 13 February 2014
The latest diet to hit UK shores is the Cookie Diet. After success in America and Australia, cookie-hungry Brits will be trying this new slimming regime as a tasty way to shed those extra pounds.
It may seem ludicrous that you can eat nine cookies a day and lose weight, as these calorific treats are typically high in sugar and fat. But Dr Siegal's cookies are packed full of amino acids and protein so dieters can tuck in without the guilt.
But nutritionally restrictive diets have received lots of negative criticism from health professionals, who argue that their controlling nature means they are not a long-term answer to weight loss or Britain's obesity epidemic. But this has not stopped many A-list Hollywood celebrities from jumping at the opportunity to try this diet. After taking Hollywood by storm, the craze is making its journey overseas and into the cookie jars of hopeful dieters in the UK.
Dr Sarah Brewer, a Cambridge University graduate, GP and medical nutritionist, said: 'It's important that people don't hear the phrase Cookie Diet and tuck into mainstream varieties that are laden with sugar, saturated fat and salt. Dr Siegal's Cookies are different!
"Devised by an obesity specialist to help his overweight patients slim down, they contain a healthy blend of hunger-satiating amino acids derived from milk, egg white, oatmeal, rice and other grains. These are baked into a range of tasty Cookies which, when eaten little-and-often during the day, keep hunger at bay. Made using rapeseed oil, they also provide healthy monounsaturated and essential fatty acids. In addition to the nine high-protein cookies, you plan your own nutritious evening meal to include the fruit and veg needed for optimum health. It's not often you hear a doctor recommending cookies, but Dr Siegal's unique recipe offers a new option for people struggling to lose weight."
Dr Siegal's Cookie Diet was founded in 1975 by weight-loss exert Dr Sanford Siegal, and has claimed to have treated 500,000 people. Each cookie contains around 60 calories and contains amino acids and protein to curb hunger.
Paula, a pharmaceutical marketing manager from Northamptonshire tried the diet and lost almost 2 stone in 2 months said: "I have tried so many diets and failed. This diet is different because it is convenient – I just grab my bag with 9 Cookies for the day and my huge bottle of water in the morning and off I go. You can eat your cookies in the car, on the train, at your desk and you have no day time meals to prepare. You are not hungry ever, therefore you don't feel deprived or have the dreaded cravings which have scuppered so many of my other diets."
With obesity levels in the UK at an all time high, doctors such as Sarah Brewer are predicting the Cookie Diet will become the fastest growing diet in the UK this year. This means that the UK could be well on its way to following the US and Australia by being a nation of cookie monsters!
-ENDS-
For more information and for interview opportunities, please contact Becky Beling or Phil Brown on 0207 717 9696.
Notes to Editors:

For additional resources, please contact Becky Beling or Phil Browne for:

Interview opportunities with Dr Sarah Brewer, or regional case studies.
Infographic and motion graphic video which outlines the "Top 5 Diets of 2014."
Supporting images.
Dr Sarah Brewer: Sarah qualified from Cambridge University with degrees in Natural Sciences, Medicine and Surgery. After working in general practice, she gained a Master's degree in Nutritional Medicine from the University of Surrey.
As well as being a licensed doctor, Sarah is also a Registered Nutritionist, Registered Nutritional Therapist and an award winning health writer. Sarah writes widely on all aspects of health and nutrition, including complementary medicine and the safe use of herbal remedies and vitamin supplements. She has written over 50 popular self-help books, is the Editor of YourWellness magazine, and a regular contributor to national newspapers and magazines.
Dr Sanford Sigel: Dr Siegal began practising medicine in Miami in 1957, and created his famous cookies in 1975 to help patients at his Miami-based medical practice, Siegal Medical group, control their hunger and stick to his reduced calorie diet. Since then he has helped 500,000 people lose weight on the diet.
Throughout his medical career, Dr Siegal has written many books about his experiences of treating thousands of overweight patients, some of the topics include the role of hypothyroidism in obesity and controlling hunger without drugs.