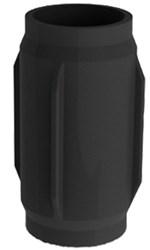 Myerstown, Pa (PRWEB) February 11, 2014
Farmer Boy Ag is pleased to announce Hydro Systems Company, the manufacturer of the Chemilizer, now has a new Kynar sleeve for the fixed injection rate Chemilizer units. The Kynar sleeve replaces the existing ceramic sleeve.
One of the highly requested changes received by customers was for an improved version of the ceramic sleeve. Hydro Systems took this request and ran with it. Kynar has a high abrasion and high chemical resistance. The sleeve also has no glass coating, which often wore off and prematurely deteriorated the unit's O-rings.
With the new Kynar version of the sleeve you will find:

The Kynar sleeve is a direct replacement for the ceramic sleeve – you can use it with the existing Chemilizer units in the field
The Kynar material is highly chemical resistant
The graphite filled Kynar will provide a very smooth, slick surface for the O-ring
The new sleeve will easily last 2-3 times as long as the current ceramic sleeve
Farmer Boy Ag along with Hydro Systems is truly excited to bring this improvement to our customers. This improvement with lengthen the life of the Chemilizer and its parts, saving customers time and money.
Farmer Boy AG, Inc. has been at the forefront of the livestock and poultry industry, constructing facilities for these industries as well as providing a complete line of parts and supplies to keep those facilities running for years to come. Regardless of market conditions, Farmer Boy Ag strives to give customers "The Best Value in Ag Supplies!" For more information on the Kynar Sleeve, contact the Farmer Boy AG Sales Department at (800) 845-3374.