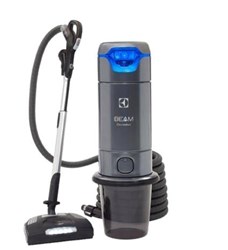 Charlotte, N.C. (PRWEB) February 13, 2014
BEAM by Electrolux is the preferred brand of central vacuums among U.S. homebuilders, architects and contractors, according to two separate studies by leading builder trade publishers.
In a survey of 2,400 subscribers to Builder magazine, respondents named BEAM by Electrolux as the central vacuum system as a brand they have used during the past two years and the brand used most often. BEAM also earned the top quality rating of the builders, architects and remodelers surveyed, earning a 5.94 rating on a scale of 1 to 7, with 7 being the best. The results mark tenth year in a row that BEAM has earned the Number One quality rating.
BEAM by Electrolux also came in tops in a separate survey by Peninsula Publishing Company, publisher of Builder and Developer and Green Homebuilder magazines. The online survey asked readers to select their preferences from lists of competing brands in 64 building product categories. A spokesman for the magazines said BEAM by Electrolux was the clear favorite central vacuum system brand.
"The survey results reflect our steadfast commitment to help builders give their home buyers superior built-in cleaning convenience and healthy indoor air quality," says Lars Hybel, general manager of Electrolux Central Vacuum Systems.
"Strong brand identity is as important as ever to builders as reliable, reputable brands help to differentiate and sell homes to a more discerning homebuyer," said Jeff Calore, executive vice president of Hanley Wood's Residential Construction Group, which publishes Builder. "This year's study results show that product performance, reliability and innovation are equally as important. Manufacturers that can demonstrate product performance, communicate new product features and leverage their brand leadership position to homebuilders stand to capture disproportionately more volume as the market continues to recover."