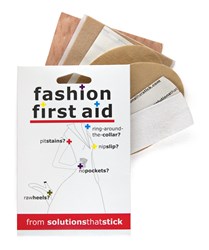 Trade shows and Las Vegas are breeding grounds for every fashion emergency.
Las Vegas, NV (PRWEB) February 12, 2014
Trade shows are a perfect breeding ground for every fashion emergency: long hours spent standing causes blisters and foot fatigue, dehydration makes bras feel extra tight and carrying heavy bags all day is a recipe for straps and buttons to break and dragging hems to rip. Thankfully during February's MAGIC Market Week in Las Vegas, a free Fashion First Aid station will be open to fix fashion emergencies with the namesake brand's assortment of clever solutions.
Fashion First Aid offers 40 shoe fixers, stain and smell preventers, bra accessories and fashion helpers to solve all kinds of embarrassing and annoying dilemmas. Anyone with a fashion emergency is invited to stop by for a quick remedy and walk away much happier. Of course, products and copies of founder and fashion malfunction expert Kim Castellano's new book, The Dirty Side of Fashion, will also be available for wholesale orders, because fashion emergencies don't just happen at trade shows.
WWD MAGIC is at the Las Vegas Convention Center from 18-20 Feb 2014. Fashion First Aid is in the Accessories section, booth #76145.
Fashion First Aid (Solutions That Stick Inc.) invents and manufactures both wacky and useful personal care products that you will never see someone else wearing, unless you take off his/her clothes. Based in Ketchum, ID, founder and chief inventor Kim Leone Olenicoff Castellano began in 1999 with one product, Garment Guard: disposable underarm shields (because she was a broke law student who was tired of her expensive white t-shirts getting ruined by underarm taco stains.) Now, with over 40 products on the market, over 10 in the works, and a light and upbeat book entitled The Dirty Side of Fashion, the corporate mission is still to save the world from fashion emergencies and help make clothes last longer.