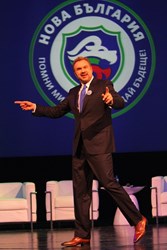 This is the first ever political party born in the social networks constituted in Bulgaria.
Abbotsford, Canada (PRWEB) February 17, 2014
Last Saturday during an alternative and stylish event, the newly founded political organization was officially constituted in Sofia, the Bulgaria's capital city.
Unlike all parties in the country which are always gravitating around banal political and media figures, Nova Bulgaria will rely on the individual contribution, dedication and of course the contemporary communication technologies to spread and improve its ideas and promote its activities. Every step Nova Bulgaria is undertaking will be available online just like it has been until now. The party sets its program on 'Strategy for Accelerated Economic Growth of the Republic of Bulgaria' - a huge document that is developed by both experts and specialists alongside the internet and with the corrections of people who live in the country and suffer from the ongoing policies.
Everybody may join the party and every member sets their own membership dues. This way, for a first time in the modern history of Bulgaria, the power and choice is indeed in the hands of Bulgaria's people.
BigMike has been living in Bulgaria since 2007 and, as a person always involved in charity and social initiatives, couldn't help looking at the constant struggle Bulgarian people call life. Nova Bulgaria happens to be somewhat of a sequel to Political Change Now, a project that he started with a bunch of his Bulgarian friends around June 2013 and which became the fastest growing Facebook page in the country. It has relentlessly strived to provoke the young, conscious and active online people in Bulgaria to work for their own better presence in the country. And for less than half a year it gained the support of over 200,000 Bulgarians.
Over 90%of the 10,000 surveyed were convinced that, within the boundaries of Bulgaria's political reality, the only way Political Change Now can reach his revolutionary ideas and goals is through the creation of a new political organization. This is where Nova Bulgaria began. This suggestion, urge maybe, from just a bold idea born in the social networks is now alive and kicking!