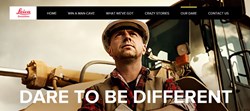 We're challenging ourselves to do more ... and we're daring contractors to take us up on it.
Norcross, GA (PRWEB) February 12, 2014
With less than one month before the industry's largest equipment and technology exhibition, CONEXPO-CON/AGG, Leica Geosystems is preparing for the global launch of innovative new construction measurement solutions by issuing a dare: "Test us, put us through our paces, and we'll earn your respect the good old-fashioned way."
At the show, an anticipated 125,000 building and construction professionals from around the world will get a first look at the most advanced precision machine control technology, laser-based solutions, the hottest GPS-guided tools, high-performance robotic systems, and more.
Leica Geosystems is encouraging CONEXPO-CON/AGG attendees to visit booth #N-12665 to see the latest innovations and challenge its sales team for answers to tough questions about machine controlled positioning, digging, grading, piling, and paving, as well as productivity solutions and building information modeling (BIM).
The company is giving attendees the chance to win a $5,000 man-cave package, just for stopping by. Other prizes are available for anyone who participates in the "crazy stories" challenge.
Magnus Thibblin, Segment Manager, NAFTA Machine Control for Leica Geosystems, says, "We're unveiling innovative new solutions at the show that will dramatically improve the way you work. We're also highlighting a comprehensive portfolio of powerful machine control and construction positioning solutions that can help you increase productivity and profitability. But we're challenging ourselves to do more—to go beyond what is expected, to meet jobsite needs whenever and wherever they arise, and to listen to our customers above all. And we're daring contractors to take us up on it."
Take the dare at http://www.leicageosystemsdares.com/. Look for the latest construction site innovations at CONEXPO-CON/AGG, March 4-8, 2014 in Las Vegas at the Leica Geosystems booth #N-12665.
Leica Geosystems – when it has to be right
With close to 200 years of pioneering solutions to measure the world, Leica Geosystems products and services are trusted by professionals worldwide to help them capture, analyze, and present spatial information. Leica Geosystems is best known for its broad array of products that capture accurately, model quickly, analyze easily, and visualize and present spatial information.
Those who use Leica Geosystems products every day trust them for their dependability, the value they deliver, and the superior customer support. Based in Heerbrugg, Switzerland, Leica Geosystems is a global company with tens of thousands of customers supported by more than 3,500 employees in 28 countries and hundreds of partners located in more than 120 countries around the world. Leica Geosystems is part of Hexagon, a leading global provider of design, measurement and visualisation technologies that enable customers to design, measure and position objects, and process and present data.