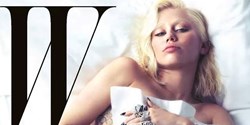 Miley Cyrus is notorious for exhibiting a crude and eccentric image. Her latest feats may also be the most revealing.
(PRWEB) February 14, 2014
Miley Cyrus has committed yet another newsworthy feat. According to ExploreTalent.com, she is notorious for exhibiting a crude and eccentric image. Her latest feats may also be the most revealing.
Cyrus provided a no holds barred dialog and performed a nude photo shoot recently for W Magazine. In the interview, she was not shy with her substance or her vernacular. She used some colorful language to express her feelings about kids, her image, and her critics. She also went on a tirade concerning her parents and calling them too trusting and revealed that she has some trust issues afterobserving what they went through. As far as the pictures go, they are ratherclassy. Cyrus poses partially-clothed for a number of sensualphotos.
Miley Cyrus, daughter of country singing star Billy Ray Cyrus, achieved stardom at a young age. She made several television appearances as a preteen, and then became a child star on the Disney series "Hannah Montana." She also showed talent for singing, which often coincided with her acting and modeling jobs. Her childhood was consumed by acting, singing, and modeling auditions. She has released several hit albums as well. In recent years, she has revamped her image and become a sexually expressive and rebellious public figure.
Since its debut in 2003, ExploreTalent has become the Internet's largest resource for actors, models, musicians, dancers, and production crew. Explore Talent's proprietary cast match technology is the most advanced entertainment-based technology of its kind. It matches a talent's attributes against tens of thousands of job postings every day.
Explore Talent's unique technology sends casting email alerts and posts auditions and jobs directly on talents' profiles, saving members hours of time from tedious searching. Explore Talent has proven to be the best possible destination for talent to find modeling and acting auditions with well over 7.9 million members and over 60,000 auditions, castings, and production jobs listed - 40 times more postings and open casting calls than any other site.
The site's popularity is based on the fact that there are many ways for talents to network, make friends and connect with other industry players, participate in a wide variety of contests and earn prizes for being active on the site. The online community has been responsible for new collaborations and business ventures in entertainment because of opportunities for individuals to network and chat with each other. Furthermore, the Explore Talent site features celebrity videos, exclusive interviews with actors, actresses, and musicians, such as Akon and T-Pain.
Check out Explore Talents Modeling Jobs Listings.