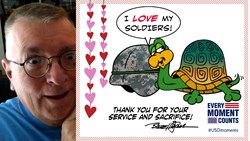 "I jumped at the chance to join the USO's Every Moment Counts campaign and send a USO Love Note to our troops this Valentine's Day," said Higdon. "Having volunteered with the USO since 2009 and just returned home from my fifth tour, I know ...
Arlington, VA (PRWEB) February 12, 2014
Twitter Pitch: Join @the_USO and @bhiggy28 as they send Love Notes to troops this #ValentinesDay: http://bit.ly/1hcLCQp #USOmoments
What if you could send a Valentine this year that could thank troops stationed in Afghanistan and around the world? This Valentine's Day, the USO's "Every Moment Counts" campaign and cartoonist Bruce Higdon, among other nationally renowned artists, invite Americans everywhere to send personalized, online USO Love Notes to our nation's troops. Inspired by more than 160 USO locations around the world, where deployed troops send heartfelt messages to their loved ones back home via social media, USO Love Notes can be sent via USOmoments.org.
Through Valentine's Day, Americans (like Higdon) can visit USOmoments.org to create a special greeting and message of support for our nation's service men and women. Simply download and print a USO Love Notes sign, tell the troops you support them, take a 'selfie' and post your personalized USO Love Note on Twitter, Facebook and Instagram - or all three - using the #USOmoments hashtag. While visiting the site, the USO encourages everyone to "Take a Moment" to learn more about the challenges military families face or "Give a Moment" by donating to the USO to help support troops and their families around the world.
"I jumped at the chance to join the USO's Every Moment Counts campaign and send a USO Love Note to our troops this Valentine's Day," said Higdon. "Having volunteered with the USO since 2009 and just returned home from my fifth tour, I know how much our troops sacrifice for us and how important every moment is for them and their families. And, today, I encourage everyone to show them some love."
Just yesterday, Higdon, along with six others, completed a week-long USO tour to South West Asia. While in the region, they gifted troops with more than 500 personalized sketches, visited military school children and made USO history by becoming the last group of entertainers to visit Kyrgyzstan. Among those who made the moment-filled journey and eagerly signed on to send USO Love Notes this week are, Todd Clark ("Lola"), Paul Combs (Illustrator/Editorial Cartoonist), Bruce Higdon ("Punderstatements"), Steve Moore ("In the Bleachers" and "Open Season," Ed Steckley (MAD Magazine), Tom Stiglich (Editorial Cartoonist) and Sam Viviano (MAD Magazine). The group are members of the National Cartoonist Society, which traces its association with the USO to World War II. Whether visiting military hospitals, entertaining troops with chalk talks or sharing words of encouragement, more than one hundred professional cartoonists and caricaturists have participated in military-related USO trips since 2005.
USO Love Notes is part of the "Every Moment Counts" campaign – a year-round, national initiative that rallies Americans to honor and create moments that matter for our troops and their families "Every Moment Counts" refers to the countless, every day moments – from family dinners and date nights to births and bedtime stories – that our nation's troops sacrifice in service to our country. When troops miss out on holidays, like Valentine's Day, the USO is there to help ease the void. Sending USO Love Notes reminds the nation that no moment, big or small, should be taken for granted and that the simplest actions can make all the difference.
"USO Love Notes are more than personalized messages of support to troops. They are our way of letting them know that every moment they are away from their loved ones, we are thankful for their sacrifice," said Alan Reyes, Senior Vice President of USO Operations. "It is also a way for America to join us in honoring this amazing group of heroes through a simple act of compassion."
On February 4, 2014, the USO celebrated its 73rd year of creating special moments for our troops and military families. Every single day, USO staff and volunteers create 30,000 special moments around the world. For more information on Every Moment Counts, please visit USOmoments.org or join the conversation on Facebook or Twitter using #USOmoments. To obtain USO photos, video and logo please visit: uso.box.com/EMC.
About the USO
The USO lifts the spirits of America¹s troops and their families millions of times each year at hundreds of places worldwide. We provide a touch of home through centers at airports and military bases in the U.S. and abroad, top quality entertainment and innovative programs and services. We also provide critical support to those who need us most, including forward-deployed troops, military families, wounded warriors and families of the fallen. The USO is a private, non-profit organization, not a government agency. Our programs and services are made possible by the American people, support of our corporate partners and the dedication of our volunteers and staff.
In addition to individual donors and corporate sponsors, the USO is supported by President's Circle Partners: American Airlines, AT&T, Clear Channel, The Coca-Cola Company, jcpenney, Jeep, Kangaroo Express, Kroger, Lowe's, Northrop Grumman Corporation, Procter & Gamble, and TriWest Healthcare Alliance and Worldwide Strategic Partners: BAE Systems, The Boeing Company, Lockheed Martin, Microsoft Corporation and TKS Telepost Kabel-Service Kaiserslautern GmbH & Co. KG. We are also supported through the United Way and Combined Federal Campaign (CFC-11381). To join us in this patriotic mission, and to learn more about the USO, please visit uso.org.