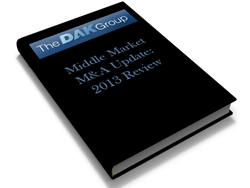 The acquisition of mid-sized businesses can play a tremendous role in a corporate growth strategy
Rochelle Park, NJ (PRWEB) February 19, 2014
The DAK Group, a leading investment bank for mid-sized firms with annual revenues of less than $1 billion, is pleased to announce the release of a comprehensive report on the state of the M&A market. Entitled "Middle Market M&A Update, 2013 in Review", the paper is currently available to the public in electronic form.
Compiled by DAK's seasoned middle-market experts, this white paper offers an inside look at middle-market M&A trends through the end of 2013 and employs proprietary analysis to evaluate core market activity relevant to a majority of middle market business owners. The DAK Group experts make a year of volatile activity easy to understand through in-house analysis and proprietary data visualizations.
The semi-annual report, "Middle Market M&A Update," calculates average valuation benchmarks for publicly reported transactions as well as EBITDA multiples for acquired firms. In addition, the report provides interpretation and commentary from The DAK Group experts.
For decision-makers at middle-market businesses, this report's findings and conclusions have tremendous potential. The report finds that although there were fewer acquisitions in 2013, average valuations have risen. And, lower middle-market firms accounted for a clear majority of M&A pickups during 2013. This category typically includes companies with less than $250 million in annual revenues.
Such transactions unlock incredible value for these firms' principals and offer competitive advantages for the upper middle-market firms acquiring them.
"The acquisition of mid-sized businesses can play a tremendous role in a corporate growth strategy," said The DAK Group president and founder Alan Scharfstein. "A smaller acquisition is easier to fund, often involves less risk, and can be integrated more quickly, offering a terrific value proposition."
Another key finding suggests that, given the slow pace of acquisitions in previous years, 2014 may be the ideal time for owners to consider an exit strategy, particularly if they have been delaying that decision for the last two years.
Read the report to learn why 2014 may deliver significant strategic benefit for corporate growth and value maximization.
"Middle Market M&A Update, 2013 in Review" is available as a free download at http://www.dakgroup.com.
About The DAK Group
Since 1984, The DAK Group has provided investment banking services to middle market companies. The firm has executed over 600 transactions across a wide range of industries, including industrial manufacturing and distribution, telecommunications and technology, business services, packaging, consumer products, retail, healthcare, and publishing. The firm brings unparalleled experience to mid-sized public and private companies in the areas of mergers and acquisitions, financial restructuring, capital advisory, valuations and fairness opinions. Securities transactions are handled by DAK Capital, LLC a registered broker-dealer and member of FINRA.