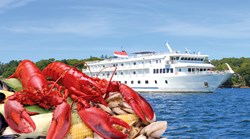 'We decided to extend this theme to all of our Maine Coast sailings due to its popularity among guests...Lobster is Maine's specialty and people travel from all over the country to experience it.' - Timothy Beebe, Vice President, American Cruise Lines
Guilford, CT (PRWEB) February 11, 2014
American Cruise Lines today announced it will be offering its popular lobster theme on all 2014 Maine Coast cruises. The eight-day theme cruise features lobster cuisine, a lobster boat excursion, a traditional lobsterbake in Rockland, and more. Offered on the 49-passenger American Glory and 104-passenger Independence, cruises begin in early June and sail through September. Guests will enjoy freshly prepared lobster and unique activities, while enjoying a personalized cruise experience along the coast of Maine. Highlights of the lobster-themed cruise include:
-Lobster Dishes – Our experienced chefs take lobster seriously. They have created unique menus which feature lobster throughout the cruise. The typical menu includes stuffed lobster tail, whole steamed lobster, lobster pot pie, lobster risotto, lobster omelets, and even lobster ice cream.
-Lobster Boat Excursion – Guests have the opportunity to board an actual lobster boat for an authentic "daily catch" experience while enjoying gorgeous views of the coast of Maine. While catching lobsters, they'll also learn about the lifestyle of Maine lobsterman.
-Lobster Bake – The highlight of the cruise is American Cruise Lines' signature New England Lobster bake on the shore of the Penobscot Bay. Fresh lobster, clams, and corn are all steamed in kelp over hot coals. The feast is unlike any other, and also features live music and stunning views of the Rockland Harbor.
"We decided to extend this theme to all of our Maine Coast sailings due to its popularity among guests," said Timothy Beebe, Vice President of American Cruise Lines. "Lobster is Maine's specialty and people travel from all over the country to experience it. We look forward to allowing even more guests to enjoy the New England tradition and delicacy aboard this theme cruise."
From Boothbay to Bar Harbor, Camden to Castine, American Cruise Lines brings guests to charming ports in Maine famous for their shipbuilding, beautiful national parks and quaint historic districts. They will visit the charming village of Belfast, famous for its beautiful Greek revival architecture, the Granite Mountains of Acadia National Park, and view the classic schooners in Camden harbor.
About American Cruise Lines
American Cruise Lines is the largest U.S. cruise company and operates the newest fleet of riverboats and small cruise ships on more than 35 itineraries around the country. The line is known for working closely with guests and travel agents before, during, and after a cruise to create a highly personalized cruise experience. Long established and deeply experienced in cruise travel, American Cruise Lines has most recently received world-wide recognition as the first line to revive paddlewheel river cruising in America. To learn more about American Cruise Lines, visit http://www.americancruiselines.com or call 800-814-6880. Find us on Facebook at http://www.facebook.com/americancruiselines or follow us on Twitter at http://www.twitter.com/american_cruis e.
An Award-Winning Cruise Line
American Cruise Lines is the recipient of numerous awards, including World's Leading River Cruise Company and World's Leading Small Ships Cruise Line, two years in a row, by travel excellence organization, World Travel Awards. Referred to as "the Oscar's of the travel industry" by the Wall Street Journal, World Travel Awards has developed into the most prestigious and comprehensive awards program in travel and tourism. Thousands of travel organizations globally are nominated and voted for pushing the boundaries of excellence in travel. The highly coveted titles of World's Leading River Cruise Company and World's Leading Small Ships Cruise Line are true indicators and proof points of American Cruise Lines' success and the satisfaction of both its guests and valued travel partners.