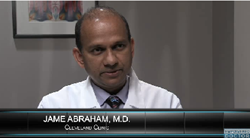 "So if biosimilars can be produced with less expensive means then it will increase access to this highly effective drug and potentially improve survival in patients who can't afford this drug." - Dr. Jame Abraham, Director Breast Oncology Cleveland Clinic
(PRWEB) February 13, 2014
A biologic is any medicinal product that is synthesized using living cells that have been grown in a lab rather than through chemical processes. This class of drugs is relatively new, but has become very popular and accounted for a quarter ($800 billion) of America's total expenditure on prescription drugs in 2011, according to the IMS Institute.
Clinical oncologist, Jame Abraham, M.D., of the Cleveland Clinic explains the impact of one example of a biologic medication. He states, "In the world, more than a million patients will walk out of their doctor's office with a diagnosis of breast cancer. And about 25% of those patients will carry the HER2 protein. Unfortunately, about 40,000 women will die from breast cancer in the U.S. and 500,000 will die from the disease globally. The number is decreasing here in the western world with a 30% decrease in mortality over the past 10 years. That's because we have highly effective drugs such as Trastuzumab (a targeted HER2 agent) to treat very aggressive tumors. So that is a classic example of a biological agent which changed the natural history of a very aggressive form of cancer."
Despite the concerns, Dr. Abraham believes biosimilar drugs will offer accessibility to global cancer patients. He adds, "Trastuzumab is an extremely expensive drug. It's about $3,000 dollars for one treatment and a patient may end up being treated for a whole year. So we are talking about up to $50,000 worth of treatment over the course of an entire year. And you translate that cost to low income countries and even here in the U.S. I don't think the global community can have access to such an expensive drug. So if biosimilars, drugs with similar activity and similar efficacy, can be produced with less expensive means then it will increase access to this highly effective drug and potentially improve survival in patients who can't afford this drug." To read the whole story, click here.