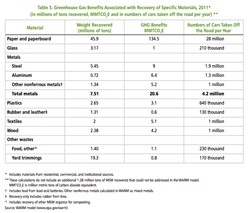 Nationwide (PRWEB) February 15, 2014
American Textile Recycling Service (ATRS) is committed to increasing textile recycling and reducing greenhouse gas equivalencies through its Clothing & Shoe Recycling operations in 12 markets nationwide, announcing record breaking pounds collected and diverted from landfills in 2013.
Last year ATRS improved diversion of textile waste to an astounding 33,500,000 lbs. or 16,750 tons. That's an increase in diversion of over 5,200,000 pounds or 2,600 tons or 18% over 2012.
Please refer to Chart 1A to view landfill diversion fact sheet.
"ATRS works diligently to assist cities in improving their overall diversion through Clothing & Shoe Recycling," says Bill Corrao, Government Relations Advocate for ATRS, "Programs include easy, convenient neighborhood collection bins, planned residential curbside textile collection programs, municipal drop-off sites and event-based community drives year round."
American Textile Recycling Service's commitment to local area charities reflects this increase in collections by an increase in charitable funding. Clothing & Shoe Recycling partnerships provide non-profits with much needed unrestricted funds to maintain and expand local programs and services. ATRS has donated over $4.4 million affiliate charities to date.
As the nation's fastest growing textile recycler, ATRS doubled its size in 2012 and is on plan to be nationwide by 2020. Projected collections for 2014 from the company's existing markets is set at 42,000,000.
To find a bin located in your area please call the 24-Hour Hotline 1-866-900-9308.
American Textile Recycling Service (ATRS) is the nation's fastest growing textile recycler and an official recycling member of SMART. Its socially responsible business model provides free textile recycling solutions for the public, job stimulation worldwide and much-needed funding for worthy local charities. Easy, convenient ATRS Recyclers are available throughout Texas, Nashville, Arizona, Florida, Michigan, Tennessee, Atlanta, Oklahoma, Colorado and Southern California. For press inquires contact pr (at) atrsonline (dot)com.