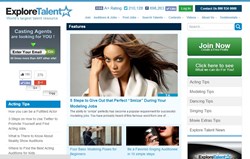 ExploreTalent.com/Articles is now a self-help sub-site populated with acting tips and other resources for aspiring performers.
(PRWEB) February 17, 2014
Explore Talent, a leading talent scouting and audition resource website, has just added a new feature to its repertoire. There is now a self-help sub-site (ExploreTalent.com/Articles) populated with acting tips and other resources for aspiring performers.
For anyone looking to bridge the gap between the dream of an acting, music, or modeling career and the reality, Explore Talent has been a reliable source for over ten years. It is our aim to continuously improve our site to provide the most helpful and efficient advice possible to future professional artists. Our latest improvement, this sub site, is a giant step forward with our goals.
Whether you are looking for acting tips, want to know where and when to find acting auditions or modeling jobs, or you're a beginner who wants to know where to start, Explore Talent's new site (ExploreTalent.com/articles) has answers.
If these features are appealing, please visit the site sooner rather than later to start your career on the right foot. Explore Talent is packed with crucial knowledge and wisdom from industry professionals. ExploreTalent.com have assisted numerous big-name celebrities on their way to super stardom, and ExploreTalent.com would love the opportunity to help!
Since its debut in 2003, ExploreTalent has become the Internet's largest resource for actors, models, musicians, dancers, and production crew. Explore Talent's proprietary cast match technology is the most advanced entertainment-based technology of its kind. It matches a talent's attributes against tens of thousands of job postings every day.
Explore Talent's unique technology sends casting email alerts and posts auditions and jobs directly on talents' profiles, saving members hours of time from tedious searching.
Explore Talent has proven to be the best possible destination for talent to find modeling and acting auditions with well over 7.9 million members and over 60,000 auditions, castings, and production jobs listed - 40 times more postings and open casting calls than any other site.
The site's popularity is based on the fact that there are many ways for talents to network, make friends and connect with other industry players, participate in a wide variety of contests and earn prizes for being active on the site. The online community has been responsible for new collaborations and business ventures in entertainment because of opportunities for individuals to network and chat with each other. Furthermore, the Explore Talent site features celebrity videos, exclusive interviews with actors, actresses, and musicians, such as Akon and T-Pain.
For more audition listings or audition tips and guides, ExploreTalent is an ultimate talent resource website.