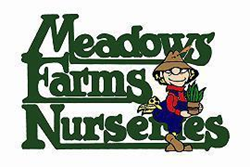 Chantilly, VA (PRWEB) February 25, 2014
Meadows Farms Nurseries has been named the number one independent garden center according to Garden Center Magazine.
Garden Center Magazine, a publication servicing North America's garden product retailers and garden centers, has released their 2013 Top 50 Independent Garden Centers list, which is based on 2012 revenues. Meadows Farms Nurseries topped the list with a 2012 sales volume of $50,000,000. There are 26 states represented in this year's list, with a combined revenue of $640,692,816 in 2012. Each of the Top 50 Independent Garden Centers will receive a personalized plaque honoring its achievement.
Meadows Farms, Inc. is one of the largest independently owned nursery and garden centers in the country, with 22 retail locations employing over 750 employees, and a landscape facility housing 39 designers, sending out over 70 crews a day. A nursery growing operation, cattle company, and a 27-hole public golf course are also under the Meadows Farms umbrella.
The Meadows Farms niche is geared to the value-minded consumer, priced well below the local independent garden centers. Their appreciation for each and every customer is demonstrated in the requirement that each be thanked four times- by the personnel involved as well as driving past a 'Thank-You' sign as they leave the nursery.
The Landscape division prides itself on customer service, knowledgeable staff, and follow-up, leading to a high percentage of return customers and referrals. They have been providing landscape installation services for over 30 years.