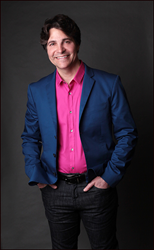 Men respond to three things (besides sex) and that's sports, comedy and financial success. I speak their language
New York, NY (PRWEB) March 01, 2014
We know the majority of those reading self-help books, attending self-improvement classes, and filling the meditation halls, retreat centers and church pews of America are predominantly female.
So how do we get our guys with the 'program?'
Reverend Justin Epstein, a golf professional, TV personality and NYC comedian, frustrated with the shortage of men in his congregation, has found a way to attract the stronger sex by engaging them in comedy, sports and success strategies.
His book, 'Super You: 7 Steps to Profound Peace and Personal Power' is a primer for young men looking to build happy and successful lives, and for men in their prime to take their lives 'from good to great.'
Using comedy, the tenets of Eastern / Western religion, the best sports practices, modern philosophy and practical neuroscience, Epstein teaches men the benefits of sharing emotions, practicing forgiveness, taking care of their health, and the idea of spiritual consequences to their thoughts, acts and deeds. And he shows how, by following some very simple practices, their careers, relationships and even their sports scores will improve.
Reverend Epstein has spoken to thousands of people throughout the country, including NYC's Lincoln Center, and has shared the stage with such notables as Dr. Maya Angelou, Les Brown, Iyanla Vanzant, and Marianne Williamson. Justin has produced and hosted the cable television series 'Practical Spirituality' in New York City and served as the associate to author/speaker Eric Butterworth, the "teacher" to Dr. Maya Angelou and a favorite of Oprah Winfrey.
He authored and produced the popular program titled 'The Enlightened Golfer: Merging Mind, Body and Spirit Through the Game' and has taught the "psychology of golf" at The Professional Golfers Career College in Hilton Head Island, South Carolina.
Books and CDs provided electronically or mailed upon request.
_____________________
Inspiring Promotions is a boutique public relations agency dedicated to promoting some of today's best authors and speakers. Visit http://www.inspiringpromotions/authors then contact us to schedule a media appearance at 415-250-1380 or email suzanna(at)inspiringpromotions(dot)com