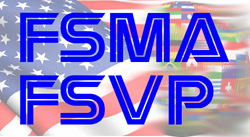 We import food from all over the world. This course made it clear and easy for us to get our foreign suppliers vetted, documented and approved.
Hawkesbury, ON (PRWEB) February 12, 2014
ehaccp.org, in partnership with Dirigo Quality Meats, have created a Foreign Supplier Verification training solution for food businesses that import food. The Foreign Supplier Verification Program Course is an online resource that provides access to food safety people with training content and documentation templates such as the FSVP SOP, FSVP assessment, FSVP Hazard Analysis, FSVP Monitoring, FSVP Registry, FSVP Verification and FSVP
On July 26, 2013, FDA issued proposed regulations that would greatly strengthen the oversight of foods imported for U.S. consumers. Under the Foreign Supplier Verification Program (FSVP) regulations, importers would be required to perform certain risk-based activities to verify that food imported into the United States has been produced in a manner that provides the same level of public health protection as that required of domestic food producers. The FSVP regulations would implement section 301 of the FDA Food Safety Modernization Act (FSMA).
The proposed regulations vary based on the type of food product (such as processed foods, produce, and dietary supplements), the category of importer, the nature of the hazard in the food, and who is to control the hazard. Read more.
ehaccp.org is a website offering food safety courses, documents, templates, HACCP, HARPC and GFSI outreach and support to small and very small food facilities and farms. ehaccp.org delivers online courses that meet with the Codex Alimentarius requirements for Intro to HACCP training and are recognized by the International HACCP Alliance.
Dirigo Quality Meats (DQM) is a food safety consulting company owned and operated by Dr. Michele Pfannenstiel. Dr. Pfannenstiel was a Captain in the US Army Veterinary Corps North East Command. She was honorably discharged, a disabled veteran and has been operating in the private sector since 2009. Dr. Pfannenstiel serves as the President of the Farmer Veteran Coalition, Maine Chapter and Director of Food Safety for the national Farmer Veteran Coalition.
Course URL: http://www.ehaccp.org