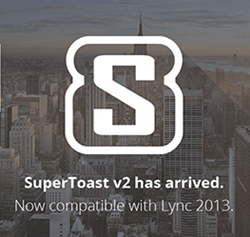 Applications such as SuperToast play a vital role in enhancing and extending the user experience.
Seattle, WA (PRWEB) February 13, 2014
Microsoft Lync has been at the heart of transforming working environments with its feature-rich communication and collaboration capabilities, which combine IM, voice, and video - all with the power of presence. As more organizations recognize the positive impacts of Lync on day-to-day productivity, efficiency, and decision-making, it is of paramount importance that Lync-based communication is not being missed.
SuperToast V2 is a unique solution, designed to prevent users from missing Lync-based instant messages (IMs), audio, and video calls from colleagues, partners, or even customers. If a user does not acknowledge an IM or call within a certain configurable time frame, SuperToast will display a window in the center of the screen, notifying the user of the missed communication. The "toast" message will stay in the center of the user's screen until they have clicked on the alert, removing it from the list.
"SuperToast is probably one of our simplest applications, but is also proven to be extremely popular over the last few years. Despite improvement in the Microsoft Lync product to make the incoming instant message alerts more visible, the demand for SuperToast continues to increase," said James Rodd, CEO of Modality Systems. "The need for organizations to be responsive is greater than ever, and missing a communication of any type could prove costly. While Microsoft Lync is undeniably a very powerful product in supporting the transformation of working practices, complimentary applications such as SuperToast play a vital role in enhancing and extending the user experience."
SuperToast is fit for organizations of all types and sizes, and is currently available in two variants. Both options are available on the same core application, however, SuperToast Pro offers a few additional features. Pro functionality boasts a suite of customization options to meet any organization's brand requirements – all available for a one-time cost.
SuperToast provides value to thousands of individuals & small companies for free:

Notifications for missed IMs
Configurable notification delay
Preview of IM text in notification
Ability to add a disclaimer strip
SuperToast Pro is designed for organizations who have specific enhancement requirements:

All of the features of SuperToast, plus:
Notification for incoming and missed calls
Ability to customize the look & feel of the notification screen
Granular policy settings and administrative control
Modality Systems will also be showcasing its popular LyncMe Product Family, a suite of presence-driven applications for Microsoft Lync which are specifically developed to help organizations enrich business communication and capitalize on workplace productivity. Last year, the LyncMe applications – AlertMe, HelpMe, SurveyMe and TrainMe – attracted a lot of attention and widely appealed to visitors looking for ways to extend the benefits of Lync within their organizations. With the increase in Lync adoption, attendees of the event will undoubtedly want to see the latest iterations of the software, which will include a glimpse at the forthcoming web chat module for HelpMe.
Meet the Modality Systems team at Microsoft's 2014 Lync Conference, February 18-20 in Las Vegas! Stop by booth # 329 for a free demo of SuperToast v2 or for more information on the LyncMe products.
For those interested in SuperToast V2 but unable to attend Lync Conference 2014, please visit http://www.ModalitySystems.com to download the free version, or reach out directly at SuperToast(at)ModalitySystems(dot)com.
About Modality
Modality Systems is a specialist provider of Unified Communications (UC) services, associated products and custom development software for Microsoft Lync. Combining in-depth technical expertise with a professional consulting approach, we have an enviable track record in delivering successful projects globally, working with clients to optimize their investment and the value of UC.
Modality offers a range of end-to-end services, from strategic consultancy and design, to deployment, end-user adoption and application development. Our consultants are some of the highest-qualified in the Lync world, authoring leading Lync publications and carrying out Lync consultancy projects on behalf of Microsoft.