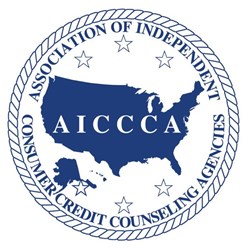 Consumers who owe need a plan for how to pay, and consumers expecting a refund need a plan for the money they will be receiving.
Fairfax, VA (PRWEB) February 11, 2014
With just about 10 weeks to go until April 15, the Association of Independent Consumer Credit Counseling Agencies recommends that consumers begin preparing for tax day now. Those who expect to pay may be dragging their feet, while those who are expecting a tax refund may have already filed. AICCCA has advice for both sides.
"Whether a consumer is expecting to pay or be paid, a workable plan is called for," said Dave Jones, president, AICCCA. "Those consumers who owe need a plan for how to pay and consumers expecting a refund need a plan for the money they will be receiving."
First, for the consumers that expect to owe taxes AICCCA offers the following tips:

Know what you owe. Determine now at least an estimate of the amount you will owe. Divide that amount by 10 and you will know the amount of money you will need to save weekly beginning now to pay by April 15.
Look for money making/saving ideas. Check to see if you can generate more income through overtime at work or even a part-time job. Consider a bare bones budget for the next 10 weeks in order to save the amount you owe. You can also try holding a garage sale or selling unwanted items online to create more cash for your taxes.
Examine your borrowing options. If you must borrow some or all of the money due, be sure to compare interest rates and terms to find the choice that is right for you. You will pay interest on a bank loan, a processing fee and interest on an IRS installment plan and convenience fees plus interest to credit card companies.
Here are the tips for the consumers expecting a tax refund:

Just say no to refund anticipation loans. This includes companies offering to let you use your expected refund to buy something right now. The average refund is processed within about three weeks and this will give you time to really decide how you want to use the money.
Save a portion. Saving at least half of your refund can put you on the path to more financial freedom. Having cash on hand for the emergencies that will come up keeps you from having to rely on credit that will make that emergency even more costly.
Pay down debt. If you are carrying high-interest credit card or other debt, using some of your tax refund to pay toward that debt will save you both money and time.
Finally, AICCCA reminds both sides to:

Check your work. Before you file, be sure you have taken all the deductions you are due and have all the paperwork to back up your claims.
File on time. If you need more time to file, the IRS does accept extensions on filing through April 15. Keep in mind that a filing extension is not a payment extension and you will likely have to make at least a partial payment on April 15.
Check your W4 deductions. Consistently owing taxes may mean you are not having enough federal income tax withheld from your paycheck. Decrease the number of exemptions or add an additional amount to be withheld on your W4 form. By the same token, if you always receive a large refund, you may not be taking advantage of all the deductions you are due. Increase your deductions and try saving the additional amount you receive in a separate savings account and you will have your own refund by this time next year.
AICCCA: Founded in 1993, Association of Independent Consumer Credit Counseling Agencies is a national membership organization established to promote quality and professional delivery of credit counseling services. AICCCA and its members are focused on financial education, efficient processes and advanced technology to best serve clients and creditors. AICCCA members are independent nonprofit agencies that advocate for debtors, annually counsel millions of consumers nationwide and provide debt management services to consumers with excessive unsecured debt. To contact an AICCCA member agency call (866) 703-TRUSTAICCCA (866-703-8787) or visit http://www.aiccca.org.