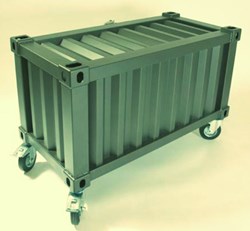 England Van Lines (PRWEB) February 12, 2014
England Van Lines is an everything moving company that has experience in local and cross state moving. It can move everyday household items or big items like cars or pianos. It will do local or international shipping, which is why it is currently one of the best long distance San Francisco movers. It's been in the industry for many years and has the experience needed to satisfy its customers.
In this modern age everyone is always on their cell phone checking all the updates their friends have been posting about their favorite TV show or their dog. It's a hands-on generation; though hands-on means something completely different than in did in the past. This is why England Van Lines has decided to catch up in the modern world and create its first mobile application. It's currently only available for beta-testing by invite only to see if any bugs that will be detrimental to the application can be fixed before being pushed out.
England Van Lines hired their mobile software developers towards the final quarter of last year in hopes of getting the application out to people by the beginning of next year. The application will only help its customers by making it easier to access information about their quote, moving appointment, or arrival of their belongings. As always England Van Lines always puts peace of mind ahead of everything else when it comes to moving.
Head developer Robert Cruz said, "England Van Lines came to us with a complete idea in mind. They knew exactly what they wanted, and we helped them with the execution. We were able to work together to create the application that would fit their needs and help their company." Cruz has made similar applications for other services and was able to accomplish what England Van Lines was looking for.
The application has many features that will make life easier for its customers:
They will be able check a moving quote right on the application; no need to log onto their website or call a representative if they don't want to.
They will be able to search more movers. If they want to know the best long distance movers in San Francisco for example, they will be able to compare prices of competitors. No more clicking around.
They will be able cancel their appointments if necessary; though rescheduling can only be done over the phone.
Customers will be able to check when their belongings are expected to arrive.
About England Van Lines:
England Van Lines has years of experience in of moving, storage, and customer satisfaction. It is one of the most used moving companies in California as it puts its customers ahead of itself. Visit England Van Lines online or call 888-485-2201 for a free quote, and hopefully it'll be able to get you moving soon!