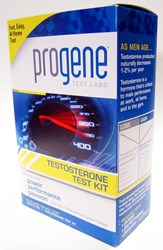 "More and more women understand the importance of initiating the low-T conversation," explains Michael Lee of Progene®. "In this era of aging baby boomers, women's involvement in 'talking T' is more important than ever."
Cincinnati, OH (PRWEB) February 13, 2014
Everyone's talking about "low testosterone" or "low T" and why not? Over 55 million men in the US are over 40 and experiencing some degree of natural testosterone loss due to age.
Testosterone is the hormone responsible for maintaining masculine characteristics and is involved in nearly every tissue of the body.
Testosterone levels peak around the age of 20-30 and begin a steady decline of 1-2% every year thereafter. At lower levels, men may feel all or some of the signs of low-T that include fatigue, weight gain around the waist, low libido, less muscle mass, and even depression. Knowing testosterone levels is vital to staying well and feeling healthy.
That's why Progene®'s At-Home Testosterone Test Kit fits men "to a T."
While a Progene® At-Home Testosterone Test Kit may not be the most romantic ValenTine, the ramifications outlast candy, cards, and candles. A serious gift from a serious giver, the Test Kit is quick and painless, involves no needles or blood, and requires only saliva. Samples mailed in the prepaid pack go to Progene®'s FDA-approved lab. Results in 5-7 business days.
"Today, more and more women understand the importance of initiating the low-T conversation," explains Michael Lee of Progene®. "Women have always played a key role in directing men's healthcare. In this era of aging baby boomers, women's involvement in 'talking T' is more important than ever."
A ValenTine that quickly and easily allows men to find out their testosterone levels in the comfort and privacy of home? It's true. The Progene® Testosterone At-Home Test Kit. Now that's a CapiTal PresenT.
Progene® is the ONLY supplement brand offering customers a Test Kit. Building trust in customers, pharmacists and doctors for over ten years, Progene® continues to encourage and facilitate the education of men and women on the subject of lower testosterone levels. There's a hearT in the righT place.
The Progene® ValenTine's Day present for him can be ordered by calling 888-PROGENE (888-776-4363).
Mention the ValenTine Capital-T 30% savings offer when placing a Test Kit order and – Surprise! – the shipment will include an 8 x 10 photograph of Progene®'s favorite molecule: testosterone. Taken by J. Grosvenor of the National Geographic family, the photo is signed, dated, and perfect inspiration for his office or weight room. The free photo is a thank you ValenTine from Progene®. Please note that this ValenTine offer ends on 2-16-2014.
Progene®: No "T" Left on "E".
About Progene®
Founded in 2003, Progene® continues to lead the natural supplement market by addressing the decline of testosterone levels in men as they age. With over 20 million tablets sold, the Progene® dual-action formula combines rare herbal extracts and clinically proven precursors, ingredients that help men produce more testosterone – naturally.
Progene® continues to evolve and innovate. The addition of the At-Home Testosterone Test Kit gives men an opportunity to actually see for themselves what Progene® can do to help restore Power, Performance & Passion®.
Progene® is currently sold nationwide at GNC Stores, Costco.com, Stop & Shop, Bi-Lo Winn-Dixie, Vitamin Shoppe, Rite Aid, USADrug, Drugstore.com, Sears Marketplace, Harris Teeter Groceries, Brookshire's Food & Drug, LuckyVitamin.com, Shopko, Amazon.com and 150 other local and regional retailers.
For more information about Progene® products, call 888-PROGENE, visit Progene.com, or go to facebook.com/800PROGENE.
PR Contact: Judith Hokanson at 513-477-7973.
Still have more questions? Please call Customer Service at 1-866-PROGENE.