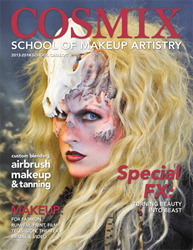 Special effects makeup artistry is a vital niche in the industry, and now is the best time to become specialized in the field.
Fort Lauderdale, FL (PRWEB) February 12, 2014
Cosmix School of Makeup Artistry, a leading licensed and accredited school of makeup artistry in Fort Lauderdale, Florida, is now offering a new Special Effects Makeup Artist Program that includes intense training in prosthetic makeup and creature design. The new class begins on April 23, 2014.
"Education at Cosmix provides students with advanced training as they prepare for a future as professional makeup technicians," said Kathleen Stapleton, School Director. "Special effects makeup artistry is a vital niche in the industry, and now is the best time to become specialized in the field."
The latest addition to Cosmix's curriculum is designed for individuals who want to work as special effects makeup artists/technicians at special makeup effects labs for design, construction, and application of prosthetic appliances for such modalities as film, television, theater, toy design, game design, haunted houses and the like.
In an effort to offer a well-rounded special effects makeup artist school, Cosmix's new program includes 210 hours of training in prosthetic makeup. Students focus on the design and creation of realistic prosthetic appliances. The process includes conceptualization, life casting, sculpting, molding and application techniques. Students get to learn and practice the art of application, utilizing proper placement, coloration and blending to create realistic characters. Blood delivery methods are also included.
In addition to training in prosthetic makeup, the new program also includes 90 hours of training in creature design. In the final one-month phase, students produce a completed three-dimensional sculpted creature from conceptual design to final application that is captured in a photo shoot.
Cosmix is one of the only special effects makeup schools that provide such a comprehensive program in this specific area. Along with the FX makeup school program, Cosmix School of Makeup Artistry offers training in beauty, fashion, film, and television. Individual courses are also available.
About
Cosmix was founded in 1997 to meet the growing demand for professional makeup schools in South Florida and around the country. The school's founding philosophy was a commitment to educational excellence and began by assembling a staff of exceptional makeup artists. We are not a cosmetology or beauty school, or a retail company. We are a post-secondary technical institution licensed by the Florida Department of Education and accredited by the Accrediting Commission of Career Schools and Colleges (ACCSC). The ACCSC is a recognized accrediting agency by the U.S. Department of Education. We are one of the few licensed makeup schools in Florida and in the United States.