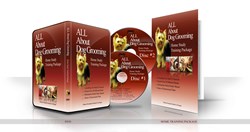 I have over 150 customers and add new ones every week.
Jacksonville, FL (PRWEB) February 12, 2014
Veterans of the pet care industry, Carol and Richard Doggett began their dog grooming business from scratch in Jacksonville, Florida. They are pioneers of one the nation's first mobile dog grooming salons and have been traveling from furry customer to customer ever since. Since then the family business has grown to multiple salons across the country, and now, for the first time, Carol and Richard want to share their success and help others do the same, by offering this successful home study package entitled All About Dog Grooming.
Their unique training program 'All About Dog Grooming' is available from their website http://www.learntogroom.com. Consisting of a 131 page spiral bound training manual, 8 hours of DVDs and a toll-free consultation with the creators themselves, it has everything a new-starter in the pet care industry could need.
'All About Dog Grooming' is a two part program which teaches new students how to successfully clip, scissor and beautify their canine customers. It also shares the Doggett's considerable business acumen with tips, tricks and hints on how to make a new dog grooming business a success.
This complete program covers everything from the basics such as brushing & de-matting canine fur, bathing & blow-drying, coat condition and more. It also teaches students how to tackle specific needs of each breed of animal, such as handling specific breed's fur types, size, stature and demeanour.
In it's short time of release 'All About Dog Grooming' has received wonderful feedback from the people who know it best, graduates of the course who have found success in the world of pet care.
"I want to thank you again for helping me get started in the wonderful world of dog grooming. With minimal advertising (one day a week in the newspaper and word-of-mouth) I have over 150 customers and add new ones every week." Tells Jamie B. from South Dakota "This gives me enough work to stay home with my family! Thanks again for making it easy and affordable to start my own business."
'All About Dog Grooming' is currently available now for $249.99.
To learn more about Richard and Carol Doggett, their story and their dog groomer training course, visit http://www.LearnToGroom.com.
xxx