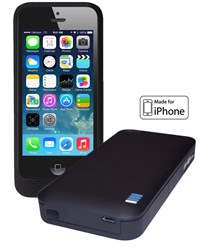 LifeCHARGE Battery case
Dallas, TX (PRWEB) February 18, 2014
Olympians who are iPhone fanatics are reportedly finding themselves in the midst of a conundrum in Sochi. How do they keep Olympic sponsor Samsung happy without giving up their favorite smartphone? The new LifeCHARGE battery case affords them a way to hang tight to their iPhone yet maintain its Apple anonymity too.
Although both Samsung and the International Olympic Committee are denying it, on February 6, 2014 The Guardian (http://www.theguardian.com/technology/2014/feb/06/sochi-iphone-sochi-athletes-samsung-sponsorship) newspaper reported about a mini-controversy purportedly brewing in Sochi. More specifically, Swiss athletes were claiming they had "been told to cover up Apple logos on iPhones if they use them at the opening ceremony."
Whether or not the claim is true, the LifeCHARGE battery case makes it a non-issue. That's because it covers up the Apple logo on the back of the iPhone while super-powering it. What's more, LifeCHARGE is available for the iPhone 4/4S, the iPhone 5/5S, the Samsung Galaxy S3 and the Samsung Galaxy S4. That means that no matter which side of the debate Olympic athletes happen to fall into, they can enjoy all the benefits the battery case has to offer.
For more information on how a LifeCHARGE battery case can keep both Olympians and Olympic sponsors happy, contact OnTrion's Palki Kochar. To learn more about the LifeCHARGE battery case, visit the manufacturer on the web at http://www.mylifecharge.com
###
CONTACT INFORMATION:
LifeCHARGE
13650, TI Blvd., Suite #309
Dallas, TX 75243
(877)676-0877